Modern Family's Jesse Tyler Ferguson Lobbies For Gay Marriage Bill In Illinois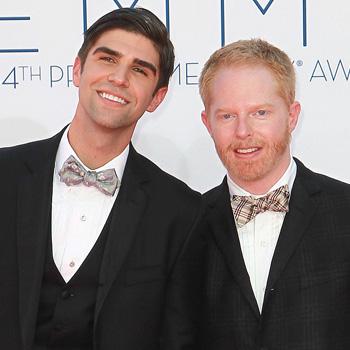 Openly-gay actor Jesse Tyler Ferguson will be in Illinois this week to lobby at a pair of events aimed at making the state the tenth to legalize gay marriage via the state's Religious Freedom and Marriage Fairness Act, RadarOnline.com has learned.
Ferguson, who plays Mitchell Pritchett on ABC's Modern Family, will be in Chicago for the launch of the political movement, then travel to Springfield, where he and his fiance Justin Mikita will partake in Bow Tie Lobby Day, according to ChicagoPride.com.
Article continues below advertisement
"Justin and I are thrilled to be participating in Springfield's Bow Tie Lobby Day. Drawing attention to the importance of marriage equality at this level is exactly why we developed Tie The Knot," Ferguson said in reference to his non-profit that sells bow ties, with the process going to pro-gay marriage charities.
Ferguson, 37, joked he's "also excited to see how the citizens and legislators of Illinois do with their bow tying skills."
The three-time Emmy nominated actor will be joined by Illinois Lt. Governor Sheila Simon.
"It is our responsibility to ensure that everyone is treated equally under the law, and right now we have a group of citizens that we are treating as second-class," Simon said in a statement. "Bringing marriage equality to Illinois is the right thing to do, and I appreciate the hard work by Rep. Greg Harris, Sen. Heather Steans and three-time Emmy nominee Jesse Tyler Ferguson to bring much-deserved attention to this issue."
Article continues below advertisement
The issue will go to vote when House Bill 5710 is voted on by the Illinois legislature in January.
President Obama has endorsed the proposal by the Illinois legislature to legalize gay marriage, a White House spokesman said on Sunday
It's an unusual move by a president - most of whom rarely weigh in on state legislative matters. Obama served in the Illinois state senate.
If it passes, that would make Illinois the tenth state to approve same-sex nuptials.