Golden Eagle Snatches Child In Shocking New Viral Video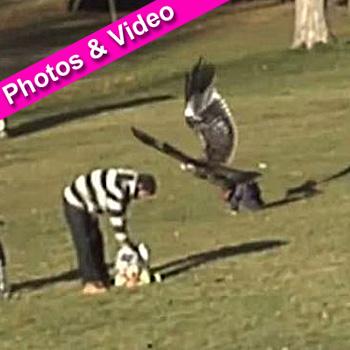 It's the newest viral video burning up the Internet, with nearly half a million views in less than a day.
Taken in a Montreal park from a distance, the clip shows a Golden Eagle picking up, and flying off, with a toddler for a few tense moments, before releasing the teary and terrified tot.
In the clip, you can hear onlookers in the park reacting to the scary scenario.
Watch the video on RadarOnline.com (WARNING: Contains Profanity)
Article continues below advertisement
Some Youtube viewers questioned the authenticity of the clip -- in this day and age where viral videos on monetized accounts can mean instant fame and big bucks -- claiming it's the result of Computer-generated imagery (CGI). Others said features in the clip prove its' authenticity.
Fun fact: A Golden Eagle can lift more than its' own bodyweight (9 to 15 pounds).
youtube