85-Year-Old & 77-Year-Old Women Get First License To Legally Wed In Washington State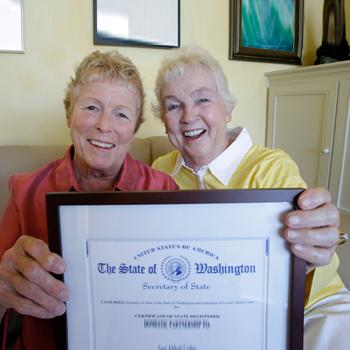 By Neil Woulfe - RadarOnline.com Senior News Director
An elderly lesbian couple, who've been together for 35-years, became the very first couple to get a marriage license in the state of Washington this week -- more than a month after voters there approved same-sex marriage.
Pete-e Petersen, 85, and her partner Jane Abbott Lighty, 77, were among hundreds of couples to receive a license signed by King County Executive Dow Constantine at the county's downtown Seattle administration building at 12:01 a.m. Thursday -- the first day Referendum 74, which legalized same-sex marriage, formally took effect in the Evergreen State.
Article continues below advertisement
Although more than 200 couples lined up at midnight Thursday to get their licenses, Peterson and Lighty -- both long-time community leaders -- were chosen to receive their license first as both had fought for years on behalf of legalizing same-sex marriage.
"It's very humbling to be chosen first. We feel like we're representing a lot of people in the state who have wanted this for a long time," said Petersen.
"It's hard to explain the thrill that we are really going to get married.
"We waited a long time. We've been together 35 years, never thinking we'd get a legal marriage. Now I feel so joyous I can't hardly stand it,'' she added.
After meeting 35 years ago on a blind date in Sacramento, Lighty and Petersen will marry Sunday. (Because the state of Washington has a three-day waiting period, the earliest that weddings can take place is Sunday.)
Article continues below advertisement
"I am so glad this night has finally arrived," County Executive Dow Constantine -- a longtime supporter of gay marriage -- said of Washington's official recognition of same-sex marriages. "This has been a long struggle nationally and in our state."
Last month, Washington, Maine, and Maryland became the first states to pass same-sex marriage by popular vote. They joined six other states (New York, Connecticut, Iowa, Massachusetts, New Hampshire, Vermont) and the District of Columbia that had already enacted laws or issued court rulings permitting same-sex marriage.
Referendum 74 in Washington state had asked voters to either approve or reject the state law legalizing same-sex marriage that legislators passed earlier this year. That law was signed by Governor Chris Gregoire in February but was put on hold pending the outcome of the election. Nearly 54 percent of voters approved the measure.
The measure did particularly well in King County -- Washington's largest county -- where it earned support from 67 percent of voters.