Gay Advocacy Groups Up In Arms Over Dr. Oz For Reparative Therapy Show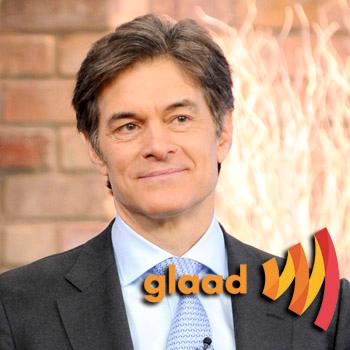 Organizations such as GLAAD, PFLAG And GLSEN complained after Wednesday's edition of The Dr. Oz Show provided a forum for proponents of reparative therapy, a rogue theory that claims one's sexual orientation can be switched with therapeutic care.
The broadcast featured an appearance from members of the pro-reparative therapy organizations People Can Change, and the National Association for Research and Therapy of Homosexuality, which has frequently clashed with the medical establishment in regards to the hot button issue.
Article continues below advertisement
GLAAD President Herndon Graddick said in a statement that the TV doc was in the wrong to indirectly tout a theory that "has been proven ineffective and dangerous, and has been soundly and conclusively rejected by the entire medical establishment.
"This line of thinking is outdated, ultimately harmful, and in modern media, should be treated like lobotomies or medical mercury."
The Gay, Lesbian & Straight Education Network's executive director Dr. Eliza Byard said Oz should have been more cautious in giving a national stage to a movement that "consistently repudiated as harmful to youth" while The Parents, Families and Friends of Lesbians and Gays criticized the TV personality for his passive stance throughout the broadcast, essentially legitimizing the theory by not butting in.
"Although the show also featured guests who condemned the idea and practice of 'reparative therapy,' Dr. Oz himself never weighed in and the audience was misled to believe that there are actual experts on both sides of this issue," the group wrote.
In response to the firestorm, Oz wrote a detailed blog on his website saying the show was striving for objectivity by giving proponents of reparative therapy a voice.
Article continues below advertisement
We "felt that we needed to include all parties who have considered reparative therapy to hear the stories of people who have tried these treatments," Oz wrote, later conceding he's not in favor of it either.
"After listening to both sides of the issue and after reviewing the available medical data, I agree with the established medical consensus. I have not found enough published data supporting positive results with gay reparative therapy and I have concerns about the potentially dangerous effects when the therapy fails, especially when minors are forced into treatments."