Straight Men's Hilarious Response To Gay Men's Threat To Marry Their Girlfriends, 'Oh My God, Please Do That!'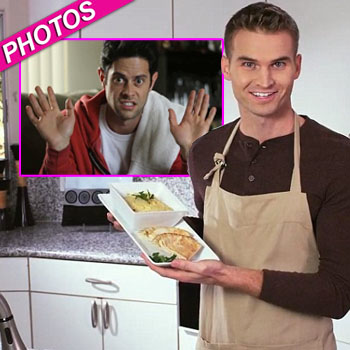 By Jon Boon - Radar Reporter
Last week comedy website College Humor posted a tongue-in-cheek video warning for people who want to keep marriage strictly between men and women.
Ingeniously titled "Gay Men Will Marry Your Girlfriend," the message was clear: homosexuals would steal heterosexuals' girls if not granted the right to same sex marriage!
However, in a hilarious video rebuttal by the guys over at Scotch Tape Productions, they exclaim: "We'd just like to say: 'Oh my god, please do that!' That would be f**king awesome!'"
Article continues below advertisement
The video continues, "Go ahead, marry our girlfriends. Because we're not going to."
The original College Humor clip stereotyped the gay male – labeling them gym regulars, show tune lovers and capable of whipping up a Quiche at the drop of a hat.
"We would be the best husbands ever, have you seen us?! We are ripped. All of us are ripped. It doesn't seem statistically possible, but it;s true," One 'gay man' claims.
"We love going to the gym, and you know who else loves going to the gym? Your girlfriend. We'll go to the gym with her, and afterwards we'll get Pinkberry as a reward."
And as we see gay men gardening, cooking in the kitchen and working out at the gym, we are also told: "'Not to mention, we dress better than you. While you were spilling 'mandwich' on your cargo shorts, we were inspecting our Oxford shirts for the craftsmanship of their gauntlet buttons.
Article continues below advertisement
"And don't even get us started on dates. You don't wanna go dancing? We teach a dance class. You're not on the list for that art gallery opening? We'll BBM the owner... And yes we would like to go to that Eighties-themed costume party. And no we weren't just checking out the other girl."
But this obviously touched a nerve with Scotch Tape Productions, who posted their own message in support of same-sex marriage.
"We want you guys to be able to marry each other, we're pulling for ya, we really are. But in the meantime, feel free to marry our girlfriends. Just know… that we warned you," the fellas say.
"We're allowed to get married, and we still don't want to. All that nagging, just for doing the things we want to do? If we thought marrying our girlfriends was going to be awesome, we'd do it ourselves. Trust us, this will make you glad you're a homosexual."
Take a look at the College Humor video below:
Watch Scotch Tape Productions' video response: