Lesbian Brutally Beaten By Girlfriend's Brother In Horrific Thanksgiving Attack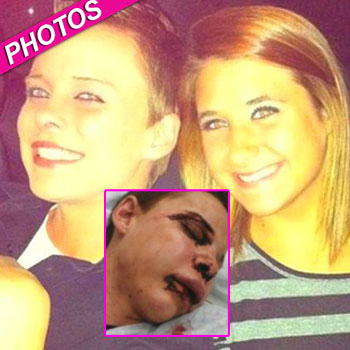 By Amber Goodhand - RadarOnline.com News Editor
Mallory Owens attended Thanksgiving dinner at her girlfriend, Alex Hawkins, family home in Mobile, Alabama and was brutally beaten up by Alex's teenage brother and RadarOnline.com has all the disturbing details.
The violence broke out when Travis Hawkins Jr. voiced his disproval of his sister's relationship with Mallory, and he pummeled her so severely that she was hospitalized with a broken nose, both eyes swollen shut, numerous lacerations and needed facial reconstruction surgery.
Article continues below advertisement
"He tried to kill her. He's lucky he didn't kill her," Mallory's mother, Kristi Taylor told WKRG-TV.
"She's lucky to be alive. I didn't recognize her when I got to the hospital. It's hard to look at her like that."
According to Kristi, this isn't the first time Travis, 18, has attacked Mallory, 23. Earlier this year Travis allegedly hit Mallory over the head with a pipe wrench and although she was injured, the family did not pursue charges.
"She was invited over by the family to eat Thanksgiving. I did not want her to go, I begged her not to go, knowing how the family felt about her," Kristi said.
"But she said, 'They're trying to be nice.'"
Travis was arrested on Sunday and charged with second-degree assault, but released on bond shortly after.
"We've got this. We're on top of this, and we're making sure that the case is proceeding down the criminal path," District Attorney Ashley Rich said.
Article continues below advertisement
"We are assessing her injuries, everything regarding her hospital stay. But at this time, he is charged with causing serious physical injuries to her, which is assault second degree under the laws of the State of Alabama."
Mallory's sister, Avery Godwin, has been by her side in the hospital since the incident and demands justice, along with friends and family who want the charges upgraded to attempted murder.
"I want him behind bars for life," Avery said.
"He doesn't need to be out, because if he does he could do this to someone else or he'll finish it off with my sister."
Authorities in Mobile are familiar with the Hawkins family — last year Alex's father, Travis Hawkins Sr., shot his son Travis but wasn't prosecuted because Travis refused to testify against his father.
Mallory has no health insurance. For anyone wanting to donate to her medical bills, a fund has been set up in her name at any Regions Bank.