Bristol Palin's Three Year Old Son Drops The F Bomb On Reality Show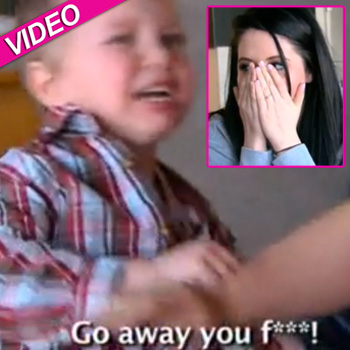 Article continues below advertisement
"I hate you," he whines to his Aunt Willow and smacks her on the arm.
He then says "Get away you f***," according to the caption in the show, but it sounds like he uses the gay slur fa**ot.
Bristol and Willow laugh as the toddler swears, covering their mouths to try and hide their amusement.
Gawker reported that the showrunner told them that he was in the room and Tripp said the word f**k and not fa**ot.
"I'm doing a terrible job disciplining Tripp," Bristol admits and then says "I know he's going to continue to push the limits and push the boundaries."
Life's a Tripp has had failing ratings on Lifetime since debuting and has already suffered a degree of controversy.
Bristol has been sued by Stephen Hanks who went head-to-head with Bristol in September at the Saddle Ranch when he insulted her mother, Sarah Palin, and she shot back at him with, "Why do you hate my mom? Is it because you're a homosexual?"