Halle Berry's Boyfriend Olivier Martinez Gets Check-Up At Hospital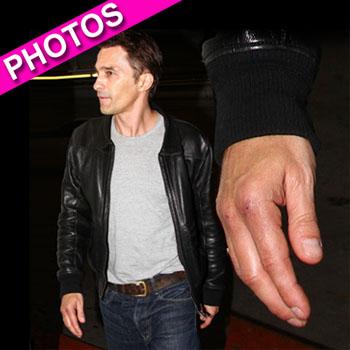 Article continues below advertisement
In his the sworn declaration for the restraining order, Aubry said tempers flared to a fever pitch after he crossed paths with Berry and Martinez at a play at Nahla's school the day before Thanksgiving. Aubry claims that Martinez whispered to him in French, "I wish I could beat the s**t out of you right now. You're lucky we're in a school right now. We're going to take Nahla right now and you're not going to follow us."
On Thanksgiving day at about 10 a.m. PT, Aubry claims he arrived at Berry's house to drop the child off and Olivier emerged, telling him, "We need to talk."
Aubry said he turned his back on Martinez, 46, and walked towards his car, at which point Martinez knocked him to the ground before brutally beating him. Aubry said Martinez screamed that he has cost them $3 million in their ongoing custody battle.
Article continues below advertisement
Aubry, 36, was arrested on suspicion of misdemeanor battery and posted $20,000 bond following the incident with the director.
As we previously reported, the high-profile incident has caught the attention of the L.A. County Department of Child Protective Services, who are re-opening their abuse investigation into the problematic co-parenting dynamic between the French-Canadian hunk and star of Monster's Ball star.
"Detectives from the LAPD formally contacted CPS after Gabe's arrest, because Nahla was present when the fight occurred," a source close to the situation tells Radar exclusively. "DCFS was contacted because there has been a history of allegations of physical abuse…DCFS must ensure that Nahla's environment is safe."
Meanwhile, Aubry is expected back in court in downtown L.A. Tuesday morning to ask a judge to lift a temporary restraining order filed against him, which prevents him from seeing his daughter in wake of the brawl.