Straight Christian Lived Full Year As A Gay Man, No Longer Homophobic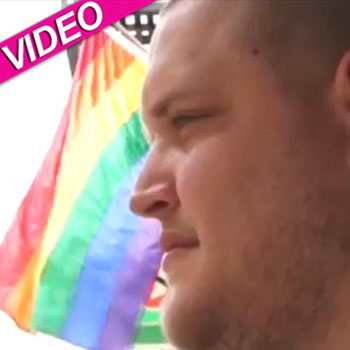 By Amber Goodhand - RadarOnline.com News Editor
What happens when a conservative Christian man immerses himself in the gay community and lives for a year as a gay man? His eyes were opened to how society treats gay people and RadarOnline.com has all the details.
Portland native Timothy Kurek, 26, was prompted to take part in "spiritual espionage" when a close friend revealed her family had disowned her after they found out she was a lesbian and his entire journey is documented in his new book, The Cross in the Closet.
Article continues below advertisement
As a God-fearing man, he was raised to believe that being homosexual was an abomination and the only way to Heaven is to repent — but when he caught himself contemplating the idea of "converting" his friend, he felt ashamed.
"I feel God really kicked me in the gut," Timothy told ABC News.
"She was crying in my arms and instead of being there for her, I was thinking about all the arguments to convert her."
With the help of his gay friend Shawn, Timothy "came out" and began living life as a gay man in an effort to understand how society treats gay people, and he was shocked at how quickly he was shunned by his closest friends and family.
"The thing that struck me most was the isolation. Before I came out as gay, I had a very busy social life," he said.
"After I came out, I didn't hear from 95 percent of my friends."
Article continues below advertisement
And perhaps most hurtful, was what he found in his own mother's journal when he took a peek to see what she thought about having a gay son.
"I'd rather have found out from a doctor that I had terminal cancer than have a gay son," she wrote.
While Timothy frequented gay bars and gay establishments, he even employed his friend Shawn to act as his boyfriend, which served the double purpose of feigning off unwanted advances from other gay men and establishing himself as a real gay man.
"I needed protection to keep me balanced and teach me the nuances of gay culture and how they flirt, and to give me an excuse when guys hit on me," he said.
"Shawn was the first gay person that I let into my heart. He was totally there for me through emotional turmoil. I trusted him."
Timothy admits in his book that before he lived as a gay man for a year the idea of being around homosexuals repulsed him, but now he says all homophobia is gone.
Article continues below advertisement
The Cross in the Closet is being released on Thursday, National Coming Out Day, and a percentage of the proceeds will go to a charity that helps homeless LGBT youth.
RELATED STORIES:
Kirk Cameron Addresses Students And Defends Anti-Gay Comments!
Anderson Cooper Slams Star Jones For Accusing His Coming Out As 'Being A Ratings Ploy'
Lance Bass On Hiding He Was Gay: 'I Was Completely Asexual' During 'N Sync