Angelina Jolie 'Mortified' By Anti-Gay Comments By Brad Pitt's Mother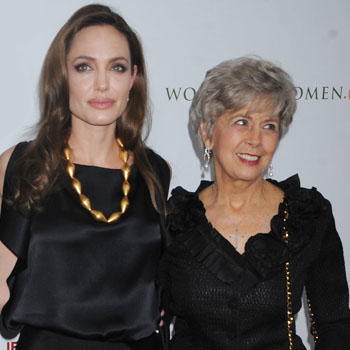 Angelina Jolie was "mortified" after Brad Pitt's mother Jane penned a letter to a Missouri newspaper last week condemning same-sex marriage and President Barack Obama's re-election, Star magazine is reporting.
"Jane has never wanted to talk politics with Angelina," a source told Star. "She knew it would cause greater issues for them, and she wanted to try to have a relationship with the mother of her grandkids. She never thought her letter would be such a big deal."
Article continues below advertisement
Jane, in a controversial response letter to the Springfield News-Leader's July 3 edition, wrote, "Any Christian should spend much time in prayer before refusing to vote for a family man with high morals, business experience, who is against abortion, and shares Christian conviction concerning homosexuality just because he is a Mormon."
In the wake of the comments, sources tell Star that Angie -- a staunch advocate of same-sex marriage -- "has told Brad he must educate his mother, but Brad is too much of a mama's boy."
Still, the Fight Club star might be apt to nip this smoldering issue in the bud, as his words will likely be gentler than Angelina's. 
"If Brad won't do it," a source told Star, "Angelina will have to take matters into her own hands and talk to Jane about how, as the mother of such a prominent celebrity, she shouldn't be writing letters that clash with her son's personal opinions."
"It'll inevitably end up in a huge blowout, with Brad stuck in the middle," the insider tells Star. "Brad keeps telling her not to take this so seriously, but when Angie sets her mind on something, there's no talking her out of it.