Katy Perry Wins Top Award At Star-Studded Trevor Project Gala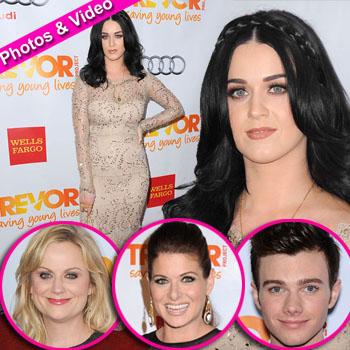 Hailed as an empowering voice for LGBT youth, Katy Perry received the Trevor Hero Award at The Trevor Project's annual awards ceremony at the Hollywood Palladium on Sunday, and we've got all the details for you right here on RadarOnline.com.
The I Kissed A Girl singer, 28, wore a nude-colored dress with sequins, topped off with gold, in the form of rings and a pendant.
She said that the "real heroes in the movement are the folks at the call centers" speaking to troubled LGBT youth, dubbing them "incredibly inspiring."
Article continues below advertisement
Other celebs at the event included Amy Poehler, Zoe Saldana, James Van Der Beek, Anna Kendrick, Zachary Quinto, Derek Hough, Chris Colfer and Kristin Chenoweth, among others.
Abbe Land, the executive director of the organization that aims to prevent suicides of LGBT youth, said Katy was honored "because, really, she has done so much to empower youth.
Watch the video on RadarOnline.com
"A couple years ago when, unfortunately, a lot of young suicides made the news … and there was a very visible presence of suicide, Katy stepped up and was out there in the community, speaking against it. Her support of marriage equality -- and equality for everyone, really -- is one of the many reasons we're supporting her as our hero this year.