Danielle Fishel Plays LiLo Playing Liz In Hilarious Parody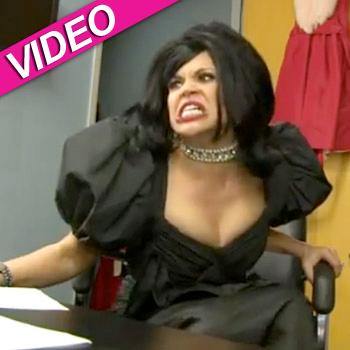 Lindsay Lohan has one more person to be angry with.
Danielle Fishel has made a hilarious spoof video, mocking Lohan's portrayal of Elizabeth Taylor in Liz & Dick.
The parody, shot for E!'s The Soup, has the Boy Meets World star in a huge bouffant black wig and bright red lipstick as she plays Lizdsay Taylorhan.
At one point, she screams "I'm so bored!" -- one of the more infamous lines in Lohan's infamous Lifetime movie -- as she throws just about everything in her dressing room at the mirror.
Article continues below advertisement
Unfortunately, the video was shot before Lohan's arrest Thursday morning -- we can only imagine the fun Danielle would have had with that.
Fishel is fantastic in the bit which may explain why she'll be seen in the upcoming Boy Meets World sequel series, Girl Meets World, being prepped by Disney.
youtube