Top Dollar! The Biggest Celebrity Home Sales Of 2012!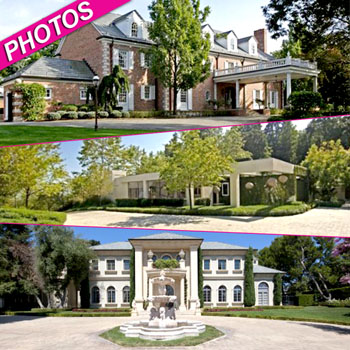 Article continues below advertisement
When Ricky Martin moved from Florida to New York, he decided to sell his Mediterranean-style home in the process. The mansion, which has an 108-foot private beach, was sold for $12.8 million which gave the Livin' La Vida Loca singer enough money to pick up a condo in the Big Apple.
Ellen DeGeneres is a fast mover. The Malibu home she bought from Brad Pitt in December 2011 for $12 million was back on the market just a year later. She quietly got $13 million for the property which sits on 1.26 acres and has spectacular views of the beach and ocean beyond.
Article continues below advertisement
Baseball star Derek Jeter's Manhattan bachelor pad first hit the market in 2010 when the NY Yankees slugger was asking for $20 million. After there were no takers, he took it off, then put it back up for sale for a lower price. It sold for $15.5 million and was still a profit on the home he bought directly from Donald Trump in 2001 for $12.72 million.
Before his premature death, Michael Jackson was renting a palatial 17,000 square-foot Beverly Glen estate. The French-style home, which has 7 bedrooms, including the one he died in, sold in early November for $18.1 million.
Ellen (AGAIN!) She topped the list for the biggest celebrity sale of the year. She sold her Beverly Hills mansion for a staggering $49 million to Ryan Seacrest. The compound measures a full city block with a gated drive that leads to a mid-century modern home with high-end security, a pool, tennis court and guest houses… Yes, houses.
After settling into Ellen's palatial pad, Ryan Seacrest finally sold his Hollywood Hills home – it was listed back in 2010 for $14.95 million. He didn't quite get that much for the 5-bedroom, 4-bathroom, 8,172 square-foot mansion in the end but still must of been happy with the $11 million he eventually banked.
Article continues below advertisement