Happy 31st Birthday, Britney Spears! See Her Shocking Transformation Through The Years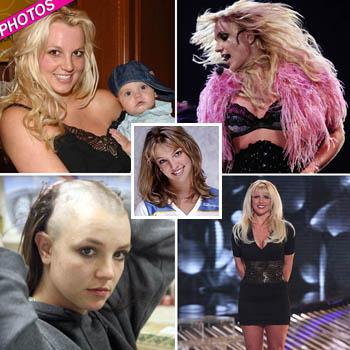 Article continues below advertisement
Getting her start on the Mickey Mouse Club as a teen in 1992, Britney soared to international fame with the release of …Baby One More Time in 1999. Dressing up like a catholic schoolgirl for the famous music video and adamantly professing her "no sex before marriage" morals, Britney's "princess of pop" status became quickly paired with "queen of controversy."
The Kentwood, Louisiana native, who became romantically involved with her former MMC costar Justin Timberlake, went on to release two more hit albums, Oops!...I Did It Again in 2000 and Britney in 2001, and also scored a leading movie role in Crossroads, which was released in February 2002 to putrid reviews.
In 2002, Britney split with Justin, spawning speculation that she had cheated on him, which was reinforced with Timberlake's Cry Me A River music video, featuring a Britney look-alike. The pop star's good girl image was officially tarnished, and this marked the transformation to her "good girl gone bad" period.
In 2003, the year she released In The Zone, she created a stir at the MTV Video Music Awards, locking lips with Madonna and Christina Aguilera.
Article continues below advertisement
On January 3, 2004, Britney rang in the new year by getting married to her childhood pal, Jason Alexander, during a wild night out in Las Vegas. Though the marriage was annulled 55 hours later, this began her out of control spiral.
Months later, Britney got engaged to her backup dancer, Kevin Federline, after dating for only a few months. They were married in September 2004, and she gave birth to their first child, Sean Preston, a year later.
Taking a little bit of a break to become for motherhood, the focus on Spears' personal life didn't quit, as she was photographed driving with her son on her lap in early 2006. In September of that year, she gave birth to her second child, Jayden James, as her marriage to Federline began to crumble, filing for divorce in November.
Britney started hitting the clubs hard, getting photographed looking drunk and stumbling out of nightclubs with party pals like Paris Hilton. On February 16, 2007 Spears checked into a rehab facility in Antigua, checking out after one day and infamously shaving her head in a Tarzana salon the next evening. The next few weeks were tumultuous for the star, checking in and out of several treatment centers before completing a stint at Promises.
Article continues below advertisement
Because of her condition, she lost physical custody of her kids and soon began dating paparazzo Adnan Ghalib.
In 2008, Spears was hospitalized on a 5150 psychiatric hold and was soon placed under a conservatorship, which has extended to this day.
On the road to recovery, Spears put her energy into her career, releasing the hit album Circus and going on tour. She also started dating her manager, Jason Trawick, in 2010, getting engaged to him in 2011.