Exclusive
X Factor Pressure Causing Problems Between Britney Spears & Jason Trawick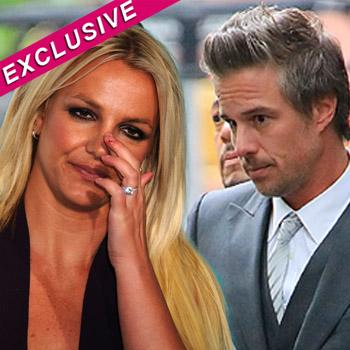 The X Factor may have been a good career move for Britney Spears, but it looks like her massive paycheck is creating problems in her personal life!
The Toxic singer and her fiance of over 7 months, Jason Trawick, are having major problems in their relationship due to the pressure of her new judging gig, multiple sources tell RadarOnline.com exclusively.
"Their relationship has been majorly rocky ever since she started filming The X Factor," a source reveals to RadarOnline.com. "They are constantly fighting about everything, and it isn't good."
Article continues below advertisement
Another source says that Jason, who became Britney's co-conservator in April 2012, and has been by her side since she started her judging gig on the hit talent show in May 2012, is less than pleased that he has gone from being a big time Hollywood agent to Britney's full-time babysitter.
"When Jason left his job at William Morris Endeavor in May 2011, it was under the impression that he was going to be managing Britney's career, but that hasn't happened," the source says. "Now he feels like he is the househusband and errand boy in the relationship, and that isn't what he signed up for.
"Part of his role as co-conservator is to be with Britney every second that she is on the set of The X Factor, and he is getting fed up with it."
Britney's onset antics have become a major issue and have become Trawick's responsibility to control and deal with.
"He is constantly having to discipline her because of her erratic behavior on the show, which is creating major riffs in their relationship as well, because Britney doesn't like to be scolded or told what to do," the first source says.
Article continues below advertisement
"The mixing of business with pleasure has really damaged their relationship, and they are both really unhappy at this point."
Because so much is riding on Spears' success on the show, they are both trying to make the best of the situation and just get through the next few months before they figure out what to do about their issues as a couple.
RELATED STORIES:
Britney Spears Insists She Is Ready For The X Factor, Despite Fears To The Contrary