Exclusive
Britney Spears $15 Million X Factor Contract Is Only For One Year!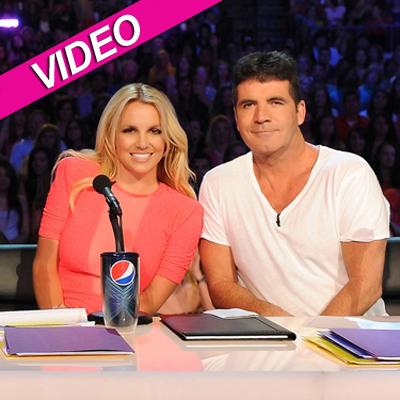 RadarOnline.com Assistant Managing Editor
Britney Spears finished her first day of judging the upcoming season of The X Factor in Austin, Texas on Thursday, and RadarOnline.com has exclusively learned that her $15 million dollar contract is only for one year!
Britney recently inked the lucrative contract, and has been busy prepping for the show, starting in New York City last week for the Fox Upfronts with fellow judges, Simon Cowell, L.A. Reid, and Demi Lovato. The 30-year-old Toxic singer had ratty hair and bleeding, bitten down nails, the results of years of living on her nerves, adding to concerns that she isn'tready to undertake her new, high profile role.
Article continues below advertisement
However, Britney looked stunning on Thursday in Texas for auditions, wearing a figure hugging pink dress, and her hair perfectly coiffed.
There were multiple factors that wentinto the decision that Spears contract with Cowell's show would be for one season, a source tells RadarOnline.com exclusively.
"The judge handling Britney's conservatorship wanted to make sure that this wasn't going to be to stressful or grueling for her and that weighed heavily in the negotiations. Britney's doctors felt comfortable with a one season commitment, remember, she is still under a conservatorship, meaning she can't make any business or personal decisions herself.
"It's no secret that Britney is being brought in to essentially save the show, and she has never done something like this before, and no one can predict what the ratings are going to be. Yes, Britney has been warmly embraced by Simon, but this is a business. Britney's contract does have an option for a second year, but Britney isn't committedunder terms of the agreement to come back for another season if she doesn'twant to, both sides have to agree to this," a source close to the singer tells us.
Article continues below advertisement
The Louisiana native, endured some harsh words from shock jock and judge of America's Got Talent Howard Stern recently, which she didn't take seriously.
"Britney is well aware of what the critics are saying about her. She is anxious to prove to everyone that she isn't just a ditzy blonde and she is hunkered down with Jason, who will be with her at all times during the auditions and filming," a source close to the situation tells RadarOnline.com.
"Britney has been asking a lot of questions about the process and is seeking advice from Simon about how she can be the best judge possible. She is aware of the comments that Howard Stern made about her recently, saying the only reason people would be tuning in to watch her is because she is a trainwreck. She just doesn't care that he made those comments.
"Britney doesn't take that seriously and knows he is just promoting himself being on America's Got Talent. Britney is excited for the public to see a new side of her and is using the criticism to give her motivation to prove all the naysayers wrong."