Britney Defends Walking Off The X Factor, L.A. Dishes On Simon Making Him Wait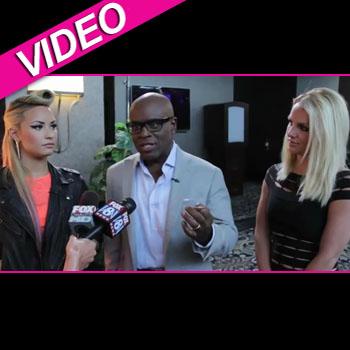 Article continues below advertisement
"Simon has more patience than us," L.A. admitted about the guy who sang Brit's song Crazy and didn't do a very good job.
"It was just horrible. The thing was he thought he was going through he thought the cheers were because he was so good. We just couldn't take it anymore."
Demi explained why she left, saying, "I felt really uncomfortable I had to walk away."
Watch the video on RadarOnline.com
Britney, looking gorgeous in a skin tight black dress, who seemed to be the first one off the stage as her song was being mocked, said she only did what Demi did.
"I was following her I was taking her lead, she's like 'let's go' and I was like 'Ok, it was our break anyway, it was our dinner so I was like ok,'" Britney said.
Demi said they did have a little sympathy for the guy, but not much.
"He's on the floor crying because he thinks he's done such a great job. I felt so bad. I laughed at first, but then I felt really bad."
L.A. Reid also dished on RadarOnline.com's exclusive report about Simon being late to the set because he stopped for southern food and made everyone wait for him.
Article continues below advertisement
"I was told while waiting and waiting and waiting that he was stopping by Jake's Diner. I'm not even sure he knows what grits are."
L.A. said that British-born Simon didn't even know what he was eating.
"He got here, he had mashed potatoes he thought they were grits, that was even worse!"
Simon Cowell: Britney Is Fearless & Tougher Than Me!
Yet Another X Factor Walk Off!