Exclusive
Simon Cowell Infuriates L.A. Reid, Keeps Everyone Waiting While He Eats At Diner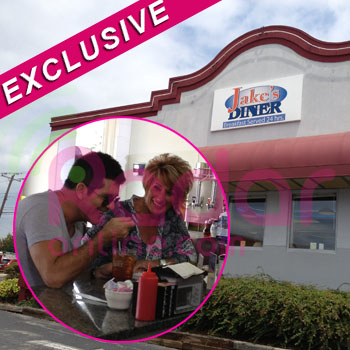 By David Perel - Executive Vice President/Managing Editor Radar
In Greensboro, N.C. for The X Factor auditions, Simon Cowell got a taste of southern cooking -- but it was his fellow X Factor judges who were steaming. Britney Spears, Demi Lovato and L.A. Reid were left waiting 45 minutes as Simon spontaneously decided to drop in and have breakfast at a diner while on his way to the show.
"One minute Simon was on his way to the Coliseum and auditions were about to start - the next thing security was radioing over that Simon had diverted the driver and asked to go to a local diner," a source told RadarOnline.com exclusively.
Article continues below advertisement
The show has had its fill of drama, with Spears walking off the set several times and Simon clashing with his new judges. But on Tuesday, his impromptu breakfast at Jake's Diner left everyone at the studio furious, especially Reid.
One source on the set was heard telling producers, "Simon's at a diner? Is that really what we're waiting for? I don't care about grits and cheesecake!"
But Simon does.
And he also cared about mashed potatoes and beans, enjoying his breakfast so much that he took the leftovers with him when the show sent a runner to get him out of the diner.
He did not get a warm welcome at the set – at least from Reid. "Forty five minutes late, Simon's car pulled in and he was carrying a tray with what was left of his breakfast to go – grits, potato and beans. He was really happy and had this big smile on his face saying how much he liked it and asking everyone if they'd been to Jake's," a source said.
"L.A. Reid was really livid with Simon. He couldn't believe he'd kept 5,000 people, the contestants and all the other judges waiting for that long just to try some grits and get mashed potatoes," the source told Radar.