It's A Love Fest! 'Britney Has Great Taste,' Says Fellow X Factor Judge L.A. Reid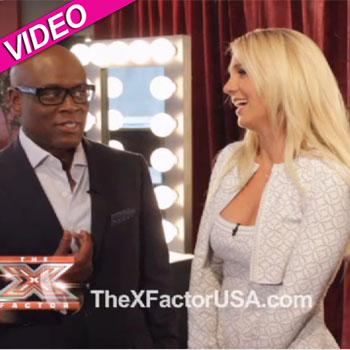 Article continues below advertisement
But by Saturday, Britney's mini-meltdown was a thing of the past, and she appeared more settled in her new role thanks to the support of her sidekicks.
In a behind the scenes interview on the set, the judges revealed their initial thoughts about the contestants who have strutted their stuff on stage for them. Newcomer Brit tried to be polite by subtly saying, "They were a little bizarre performances overall," while Walsh didn't hold back, "Awful!" he said bluntly.
"It's been a little suspect," revealed label mogul L.A. Reid. "But we're going back now to audition more, so we're still hopeful."
Spears summed it up with one word, "Potential – but not quite X Factor."
Watch the video on RadarOnline.com
Dressed in a grey patterned dress and matching cropped jacket, Britney appeared very prim and proper during the interview, but decidedly nervous in her new position as judge and mentor.
Article continues below advertisement
Second year alum Reid reassured her by saying what great taste she has, and revealed they only disagreed with her once. "One out of 75 auditions, that's not bad!"
"Britney tells it like it is," added Walsh, as the pop star giggled next to him nervously.
Late arrival to the interview was Disney star Demi Lovato, who like her buddy Britney doesn't like bashing people and dashing their dreams.
"When I got in the seat and have to give negative criticism to somebody, it sucks," said Demi, "But they're taking a chance, and I'm taking a chance by telling them something that I believe."
Britney Spears' Sons Play Big Brother To Dad Kevin Federline's New Daughter