Exclusive
Fallen Off The Wagon? Disabled Veteran TV Anchor Bree Walker Parties Hard In Gay Bar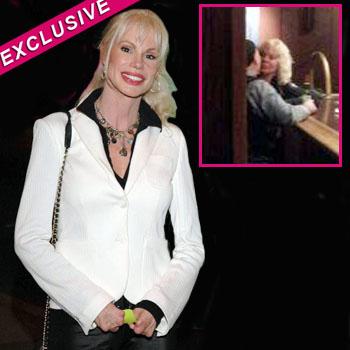 Veteran journalist Bree Walker -- who gained fame as the first TV news anchor with a rare genetic condition called ectrodactyly -- checked herself into rehab for alcohol five years ago, but appears to have fallen firmly off the wagon as an eyewitness tells RadarOnline.com exclusively that the disability rights activist has been spotted recently knocking back shots in a gay bar!
Walker -- whose condition results in her fingers and toes being fused together so they look like claws -- has become a regular partier at the Roosterfish bar in Venice, California, reveals the local who spotted her on a recent boozy night out.
Article continues below advertisement
"She was there with a gentleman who she introduced as her boyfriend. She was very boisterous and loud, and throwing her legs up on the bar," the eyewitness exclusively tells RadarOnline.com. "When the bartender called 'last call,' she screamed: "I'm the best last call you've ever had!'
"Bree got to the bar around 11:30 pm and stayed right up until it closed at 1:45 am, she was knocking the shots back at an impressive pace. As the night progressed, she was slapping the bar to the beat of the music with her hands, and on her way out she was a little unsteady on her feet, stumbling as she tried to walk and left her black jacket in the bar," says the source.
The former radio talk show host and TV news anchor -- who worked in several large markets, including New York and Los Angeles -- has been married three times, most notably to sports commentator, Jim Lampley, but the couple divorced in 1999 after nine years.
When Walker checked into rehab for alcoholism in February 2007, she released a statement confessing to her battle with the bottle and pledging to overcome it. "As part of a continuing series of positive steps for unity, which have been taken in my family this past year, I have chosen, of my own accord, to enter a treatment program for alcohol dependency," said the mother of two.
Article continues below advertisement
Sadly, Bree appears to be firmly back on the booze and has become a well known face in the friendly neighborhood gay bar.
"I have seen her in there before and watched her order martinis, beers, shots… she is way off the wagon," says the source. "She has developed a presence there now over the last month or two. She has been recognized and talks to regulars there for sure.
"She doesn't talk about her deformity, but doesn't try and hide her hands either and will definitely reach out and give people a handshake."