Diane Sawyer Flashback: Sipping Wine & Popping Pills Before Primetime Live Broadcast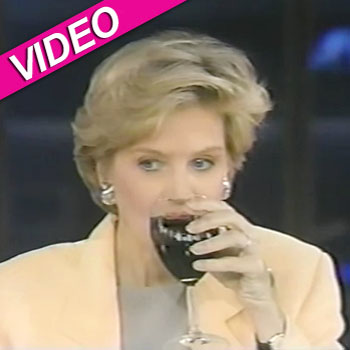 By Amber Goodhand - RadarOnline.com News Editor
Veteran news anchor Diane Sawyer prompted speculation that she was drunk during Tuesday night's election coverage with her slurred speech and erratic behavior, and RadarOnline.com has unearthed old footage of Diane in which she's seen drinking wine and popping pills before going live on air!
Diane, 66, was a co-anchor on ABC's Primetime Live between 1989 and 1998 and in raw video taken at some point as she was preparing to go live on air, she's seen sipping on a large glass of red wine and then popping pills she dug out of her purse.
Article continues below advertisement
It's unclear who she's talking about but Diane is heard saying, "I said, too bad she's crazy," and then gestures as if she's drinking a glass of wine and snorting drugs.
Throughout the clip Diane, who seems to channel Princess Diana with her look, is seen fixing her hair and making sure she looks presentable for the broadcast.
As RadarOnline.com previously reported, Diane's broadcast with ABC News on Tuesday night drew a lot of speculation that she had been drinking and Twitter blew up with comments.
"I'll have what Diane Sawyer is having," singer Josh Groban tweeted.
Real Housewives of New Jersey personality Albie Manzo tweeted, "Diane Sawyer is waaaaaaassted right now," while his aunt Dina Manzo tweeted, "I want whatever Diane Sawyer is taking or drinking tonight."
But New York Times' Brian Stelter defended Diane, saying she had an off-night and that "she gets this way when she's really tired."
What do you think? Leave your comments below…