Cheating & Lies! Recently Reunited Emily Maynard & Jef Holm Already Fighting, Over Another Woman!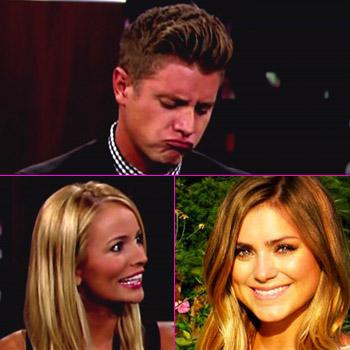 Article continues below advertisement
"Emily was in L.A. for Ashley Hebert and J.P. Rosenbaum's wedding and Jef was in town, too — although no one was sure exactly why," an insider close to Jef told Wetpaint. "Two nights before Ashley and J.P.'s wedding, he hooked up with Emily at her hotel."
He didn't, however, spend the night, instead returning to his own lodging closer to the beach straight after their steamy tryst.
"The next morning, he picked Katianna up at the Los Angeles airport," the source added.
As RadarOnline.com previously reported, Jef was first spotted hanging out with the broadcast journalism student last month and quickly flew her out from New Orleans to Arizona to spend some quality time with him.
Meanwhile, it seems Maynard may have stayed none the wiser when it comes to Holm's wandering ways if it wasn't for the power of social media!
"Jef, Katianna, and Arie Luyendyk, Jr. took a day trip to San Diego, where they posted pictures of themselves at the zoo," the insider told Wetpaint. "Once Emily saw that he was with Katianna – only a day after hooking up with her - she was disgusted.
Article continues below advertisement
"Emily and Jef started fighting over text and it got really vicious. They both have dirt on each other stored in their phones and they weren't shy about reminding each other about it."
Ironically, it was texting that broke the couple up in the first place! As previously reported, Holm had a major meltdown after discovering a series of racy texts and risque photos his then-fiance had been sending to another man.
Emily & Jef Round Two? Inside Maynard & Holm's Very Cozy Secret Charlotte Rendezvous!
Emily Maynard 'Desperate' To Reconcile With Daughter's Grandparents, Terrified They Will Cut Off Financial Support, Says Source
Hollywood Here I Come! Emily Maynard Confirmed For New Season Of Dancing With The Stars!