Exclusive
Emily Maynard Is Jealous That Arie Luyendyk Is Dating Courtney Robertson!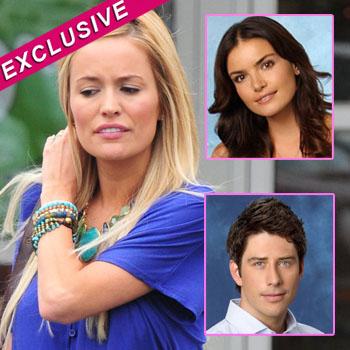 By Jon Boon - RadarOnline.com Reporter
Despite reports linking Emily Maynard with NASCAR driver Jason White, she's envious that Arie Luyendyk, Jr. is dating The Bachelor star Courtney Robertson, RadarOnline.com is exclusively reporting.
The 26-year-old single mom, who recently ended her engagement to the well-coiffed Jef Holm, regrets not picking Arie now that her relationship with the charity owner is over.
She fears that not being in a high-profile relationship with another reality TV contestant will harm her celebrity status and she always thought she'd have Arie to fall back on.
Article continues below advertisement
"When Emily saw that Arie was dating Courtney, she got a little jealous," a source told RadarOnline.com.
"It kind of rubbed salt into the wounds for her because the relationship she had with Jeff didn't work out and it was a tough decision for her to let Arie go.
"There was no doubt that the pair had an instant chemistry with one another and she was incredibly attracted to him.
"But she made the wrong choice and now she's sweating if it will affect her fame. Emily knew that being together in a celebrity relationship would keep her relevant – but now she's concerned that people will just forget about her.
"That could be part of the reason she's envious, because Arie is dating a fellow reality TV contestant," the source added.
As RadarOnline.com previously reported, fame-hungry Emily was spotted at a Carrie Underwood concert with her new beau in her hometown of Charlotte, North Carolina on November 3.
"They were all over each other," an eyewitness told US Weekly, "Jason guided her through the crowd and held her hand as they walked downstairs."
Article continues below advertisement
Emily's former fiance was late NASCAR driver Ricky Hendrick, the father of her 7-year-old daughter, Ricki. She was also romantically linked to Dale Earnhardt Jr. in 2006.
Emily, the first single mom to appear on the show, was formerly engaged to bar owner Brad Womack, who picked her on The Bachelor.
A pal of Emily's said her engagement with Holm was "something new," and thinks her fledgling romance with Jason is essentially "going back to what she knows and considers safe."