Anne Forgets Les Panties! Hathaway Flashes On Les Miserables Red Carpet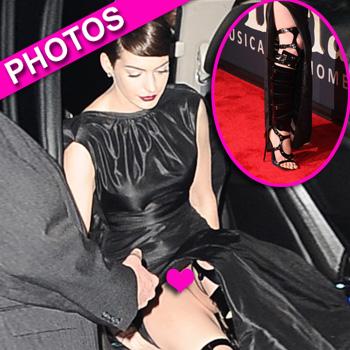 Article continues below advertisement
The designer even made her special 'bondage; shoes especially for Anne with vegan leather, since she doesn't wear or eat animal products.
Anne, 30, was rocking her short tresses that she had shorn for the role, and still is incredibly thin following her dramatic weight loss for the character.
With the no-panties flash, the former Oscar host joins Hollywood starlets like Britney Spears, Paris Hilton and Lindsay Lohan in the notorious group.
MORE ON:
Wardrobe Malfunction