CBS CEO (Gently) Trashes Two And A Half Men's Angus T. Jones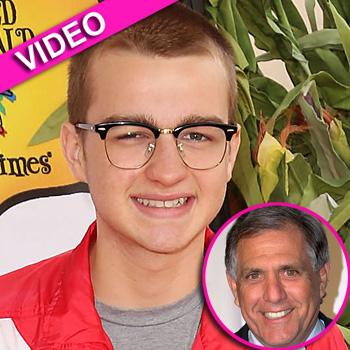 Will Angus T. Jones stay on Two and a Half Men? According to CBS CEO Les Moonves, maybe -- or maybe not.
Moonves made his first, and very candid, public comments Tuesday about Jones, 19, in wake of his surprising religious-fuelled rant against the hit CBS sit-com -- a show he called "filth."
"We took this boy who started with us when he was eight years old and it seems to be what happens with child stars over the course of time," Moonves said at a breakfast hosted by the Wall Street Journal.
Article continues below advertisement
"He's now making over $300,000 per week, which is not a bad salary for a 19-year-old kid and he went on a religious channel and urged people not to watch the show because it was filth. By the way, he's still collecting his $300,000 per week," Moonves added.
Regarding Jones' uncertain future on the show, which has seen more than its fair share of backstage drama, Moonves said: "I don't know what our status is with him." But he added: "After going through what we went through with Charlie Sheen, it's been a piece of cake."
As RadarOnline.com previously reported, Jones went on a bizarre rant against the hit CBS show during a testimonial he taped last month for the Forerunner Christian Church telling viewers to stop watching it. In the nearly 15-minute video, Jones goes on for more than three minutes between the 7:05 and 10:10 mark and made reference to his character on the show, Jakes, saying "he means nothing" and pleaded viewers to "stop filling your head with filth."
Article continues below advertisement
Jones later apologized for his seemingly out-of-nowhere comments, saying he didn't mean to disrespect his colleagues.
Meanwhile, RadarOnline.com is exclusively reporting that the founder of that controversial church has been jailed twice and has a history of skipping legal and financial bills, according to court papers obtained by Star magazine.
CBS and Warner Bros., the studio that produces Two and a Half Men, have declined to officially comment on Jones' status, but ABCNews.com reports a source close to the show says Jones isn't expected on set anytime soon because he doesn't appear in the next two episodes being filmed since his character, Jake Harper, recently joined the Army and hasn't appeared on many episodes this season.
MORE ON:
Two and a Half Men
Angus T. Jones Mocked In Video By The Office's Rainn Wilson
Jones reportedly has a year left on his contract with 'Men,' but if he does get fired, he may have his next acting job already lined up.
"My former nephew is welcome at the Goodson Anger Management home anytime," Charlie Sheen told ABCNews.com last week, inviting Jones to appear on his FX series, Anger Management, in which he plays a therapist.
Sheen also said, "It is radically clear to me that the show is cursed," and called Jones' video testimonial against the show a "Hale-Bopp-like meltdown."
youtube