Exclusive
Angus T. Jones 'Is Going To Be A Guiding Light For Hollywood,' Says Follower Of His Controversial Church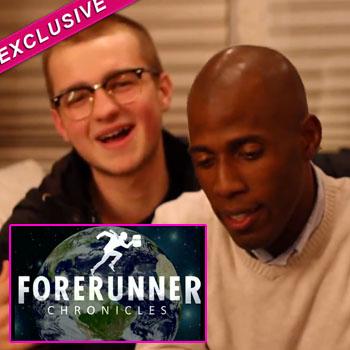 Article continues below advertisement
"I believe Angus is going to be a guiding light for Hollywood," ForeRunner follower Michael McNamee of Memphis, Tennessee, told RadarOnline.com in an exclusive interview.
"He felt the love of God and his spirit came over him like he was being hugged from the inside out. He had a radical encounter with the presence of God, and I have experienced the exact same thing – it is called the Baptism of the Holy Spirit. God really did turn his life around," explained the religious young man.
In the video footage, Jones describes his on-air pseudonym Jake as "a nonexistent character" and pleads with TV viewers to turn off the show. "I don't want to be on it. Please stop watching it. Please stop filling your head with filth," he said.
"From what I know from Angus T. Jones' testimony, he came from a troubled home and his parents were splitting up and he nearly turned to drugs. His friend and him were discussing ways in which he could make money and he came up with a business plan and said he wanted God to be at the center of it," revealed McNamee.
Article continues below advertisement
The sitcom star made his religious revelations while sat beside mentor Christopher Hudson, whose own extreme teachings have sparked outrage by many Liberals who believe he is waging a religious war against the entertainment industry.
In 2009, he gained notoriety after releasing a documentary on YouTube called The Jay-Z Deception, in which he accused the rapper of being a devil-worshipping Freemason. He has also declared masturbation a sin and referred to President Obama's health-care plan as a "carbon copy" of Hitler's health-care policies.
While he does not personally worship with Hudson, McNamee explained that the ForeRunner Chronicles pastor is not alone in his damning views of celebrities .
"In the South especially there are a lot of people who believe that Hollywood is full of sinners. I believe that Beyonce and Jay-Z are both members of the Illuminati and that is part of a Satanic cult," the Memphis resident claimed.
"A lot of the rap singers such as Chris Brown, Lil Wayne, and rock stars are in it and they have given their souls to the enemy in return for fortune, " he claimed. "The Illuminati is basically a spin off from the Freemasons, but it is a new age thing.
Article continues below advertisement
McNamee went on to explain some of the more radical teachings of the Seventh Day Adventist that are preached at the Valley Crossroads Church in California's San Fernando Valley, which Jones attends.
Originated in 1863, the Seventh Day Adventist is a Protestant Christian denomination that considers Saturday to be the Sabbath and is estimated to have a worldwide baptized membership of about 16.3 million people.
Article continues below advertisement
"The Seventh Day Adventists do still believe that Jesus is the son of God but they've got some other weird ideas," explained McNamee. "They have the bible like you and me know, then they took the bible of prophetess Mary Smith, from the late 1800s and added her words to the holy book.
"The bible actually says that nothing should be added or taken away from it, but the Seventh Day did it anyway.
"Rather than people being forgiven for their sins, the sect believes there is an angel in heaven who is actually writing down what people do for a judgment.
While Evangelicals believe in the grace of God with the Seventh Day it is all about work," said McNamee, who denies that it is a cult religion.
"Masturbation is considered a sin because sexual immorality is impure to do, like premarital sex. All the churches are similar but there are just more people who are extreme and radical about it here," he told RadarOnline.com.