Angus T. Jones Mocked In Video By The Office's Rainn Wilson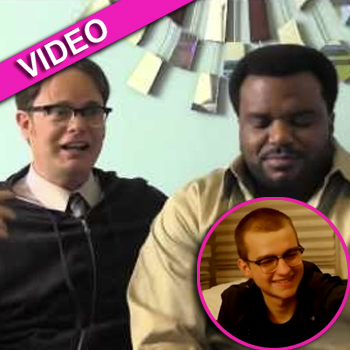 Poor Angus T. Jones. First, he got spanked by his bosses at Two and A Half Men for publicly bashing his hit CBS show, and now, a fellow sit-com star from a rival network is coming after him.
Rainn Wilson of NBC's The Office posted on his Facebook page his own video spoofing Jones' videotaped rant in which he called his show "filth."
In Wilson's video, which also includes his The Office co-star Craig Robinson, he also calls his show "filth" and, like Jones, asks viewers not to watch it.
Article continues below advertisement
Wilson, 46, says in his video: "Dwight from The Office is nothing, OK? The Office is nothing, all right? If you watch The Office, please don't watch The Office. I'm on The Office. It's filth. And that filth will rot your brain."
Wilson then goes a step further, by hilariously plugging the new time slot of his show, adding: "Take it from me, who's on The Office, please don't watch it, Thursday nights at 9 on NBC. Do not watch this final season or that filth will rot your brain. Seriously."
As RadarOnline.com previously reported, Jones, 19, caused controversy earlier this week when he went on a rant against his show during a testimonial he filmed for the Forerunner Christian Church and said: "Please stop watching it… Please stop filling your head with filth."
Jones has since apologized for his remarks.