Exclusive
Founder Of Angus T Jones' Controversial Religious Group, Forerunner International Ministries, Has Been Jailed Twice, According To New Report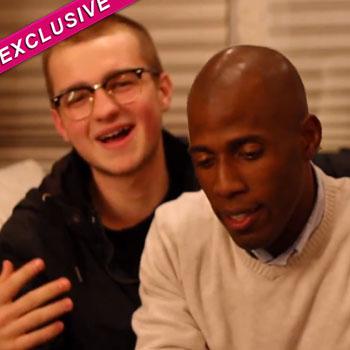 The traveling minister who posted a shocking video of a two-part interview with Two and a Half Men star Angus T. Jones has been jailed twice and has a history of skipping legal and financial bills, according to court papers exclusively obtained by Star magazine.
Back in 2005, Forerunner International Ministries head honcho Christopher Hudson was stopped by cops in Nassau County, New York and charged with driving an uninspected car with a suspended license and registration, Star reports.
Article continues below advertisement
Seven months later, he was charged again, for driving without a license, after he was involved in a car accident.
According to legal documents, Hudson avoided paying his fines until years later when he moved South to Alabama, where Forerunner International Ministries is based.
On April 2, 2012, he was arrested in Columbus, Ga., for driving with a suspended license and failure to obey a traffic device. After five hours in jail, Star reports, Hudson managed to scrape together the $860 bail, pled guilty to the second charge and was put on 12 months' probation.
According to Star's report, that arrest notified the authorities in New York because just 11 days later he was behind bars once again for a day at the Nassau County Correctional Facility on Long Island.
In May, Hudson hired a lawyer to resolve his outstanding cases in Nassau Country Criminal Court. He paid $350 in fines, and all charges were dropped.
Article continues below advertisement
Hudson also ran up a bill of $22,000 with the Long Island Plastic Surgical Group in July 2005, Star reports.
The medical practice was granted a default judgment against Hudson of $27,000 by a judge two years later, which included interest plus costs and disbursements.
However, to date, there has still been no "satisfaction of judgment," according to court records.
For the full story, pick up the new issue of Star magazine -- on newsstands Thursday.