Transgender Beauty Queen Reveals 'Pausing Puberty' & Surgery At 16 Saved Her Life, 'I Would Have Killed Myself'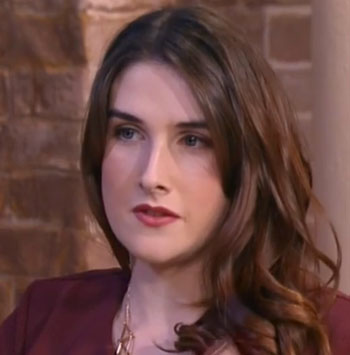 Jackie Green, the first transgender Miss England finalist and the youngest person in the world to undergo transgender surgery, opened up about the pain of being born the wrong sex on UK TV show, This Morning, and RadarOnline.com has the details about her heartbreaking interview.
"I knew from the start that I was a girl, it was just actually having the vocabulary to make people understand," Jackie, who was born Jack and diagnosed with gender identity disorder when she was just 5 years old, explains about her complicated childhood.
Article continues below advertisement
"I would have had the surgery at five years old if I could. After the surgery it felt like starting life for the first time."
At the age of four, Jackie told her mother that God had "made a mistake" and that she "should be a girl," and struggled with her sexuality for years, overdosing at the age of 11 and trying to kill herself six more times before finally undergoing surgery.
"I was prescribed 'blockers' by a doctor in Boston when was I was 12," she revealed. "It basically paused puberty and it saved my life. I would have killed myself. I wouldn't have been able to cope."
At the age of 16, with the support of her family, she became the youngest person to have transgender surgery, which changed everything.
"Without that surgery, I wouldn't be here now," she maintains. "I'm a girl, I always have been – there's never been any doubt in my mind about that. It's just that my body didn't match because, as far as I'm concerned, I had a birth defect."
The years leading up to the surgery, however, were very trying on the beauty queen.
Article continues below advertisement
"At primary school I dressed as a boy for the majority of the time. The kids understood and just took it in their stride, but secondary school was horrible. I was being spat on, being beaten up and called so many different names. The parents were the worst."
Now that she is fulfilling what she believes to be her destiny as a women, she has a new sense of self.
"I'm me, I know who I am. I don't care what people say anymore. There's so much discrimination and so much that people don't know about the options that are out there. It's really hard and I want to try and stop that."