Desperate Transgender Boy Tried To Slice Off His Genitals With Scissors When He Was Four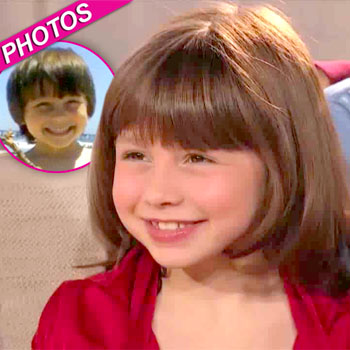 By Jon Boon - RadarOnline.com Reporter
A desperate young transgender boy, who struggled to come to terms with his identity, tried to cut off his manhood when he was just 4 years old, RadarOnline.com reports.
In his early years, Danann Tyler, 9, told his parents he was a girl and wanted to wear dresses and grow his hair long. But the final deciding factor for his yoga instructor mother, Sarah, 39, and father Bill, 45, a police officer, came when Danann attempted to slice off his penis with a pair of scissors.
Article continues below advertisement
"I found him in the playroom trying to cut off his penis with a pair of craft scissors," Sarah told Closer magazine, via the Mail Online. "He was weirdly calm, saying, 'I'm going to get rid of this.' I felt sick."
Soon after, Danann was misdiagnosed with ADHD and bipolar disorder and accused of attention seeking, but that didn't explain the child's temper tantrums, Sarah, who also has an older son, 11-year-old James, revealed.
"His school work suffered and he started lashing out when I dressed him. I'd have bite marks and bruises. I was devastated."
Things came to a head when Sarah refused Danann's pleas to wear a dress to a party. She said: "He jumped out of the car and ran into traffic saying, 'I want to die.'"
Because of the severity of his actions, Danann was immediately seen by a psychiatrist after his mother contacted a local hospital. Then, after a series of tests and therapy, it was discovered that the young boy was born with gender identity disorder.
Article continues below advertisement
The solution to the Tylers' problems was that Danann had to start living as a girl. They soon began bringing him up like a daughter, allowed him to grow his hair and wear girls clothes full-time, even at school.
Sarah said: "He (the doctor) assured us there was nothing psychologically wrong with Danann - but we were shocked. Bill said he didn't want any part of it. But for me, everything seemed to fall into place.
"We realized we weren't alone and other families were experiencing this. I was so sad to let go of my little boy. But I knew Danann would be happy as a girl. It seemed surreal to be making that decision, but I felt there was no alternative.
"I told Danann that he'd been born with a girl brain and a boy body, and he just said calmly, 'I'm a girl, I know.' I explained we'd treat him as a girl, let him wear girls clothes at home and call him 'she' from now on.
Article continues below advertisement
"And when I said we could go shopping for clothes, Danann couldn't stop smiling. She chose frilly pink dresses and sparkly shoes. We also bought some dolls. She was immediately less withdrawn. It was still strange - I'd never had a daughter - but I knew I had to do it for her."
Now much happier, the Tylers have said that Danann can have a full sex change operation when she is 15 years old.
"The next step would be hormone treatment but that's her decision," Sarah confirmed. "If she wants to, she'll take hormone blockers around age 10, then start female hormone treatments at 15, which will make her skin softer, reduce body hair growth and encourage breasts to grow.
"I'd let her have sex-change surgery at that age - I know it's been done before and I think at that age she'll know for sure what she wants.
"People might think she's too young, but it's best for Danann we make the transformation now so she won't struggle through puberty. She's a different child now she's living as a girl - I know we made the right decision. She's happy, outgoing and doing well at school. This is who she wants to be.
"People may criticize but I couldn't have forced Danann to live as a boy. I'm glad she's finally happy in her own skin."