'Dog Whisperer' Cesar Millan Attempted Suicide After His Dog Died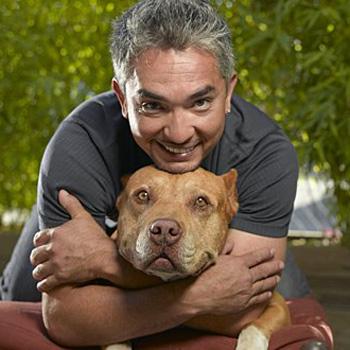 Cesar Millan shot to fame as the Dog Whisperer and when his own beloved dog passed away he attempted suicide, he reveals in a startling new documentary.
Millan's life crashed to rock bottom with the death of "Daddy," his 16-year-old pit bull. Months later, in 2010, Millan's wife filed for divorce, completing his despair.
The dog trainer known by millions of TV viewers for his calm approach to difficult situations lost hope. He survived an overdose attempt and has since rediscovered happiness.
Article continues below advertisement
Cesar Millan: The Real Story is a documentary airing on Nat Geo Wild on Nov. 25 and Millan is completely candid about the problems that drove him past the point of coping.
Cesar & Daddy Helped Sort Out A Dog-Friendly Office
"I was at the lowest level I had ever been emotionally and psychologically," Millan wrote earlier this year.
And in an interview he explained why the Pit Bull was so special to him: "Daddy was my Tibet, my Himalaya, my Gouda, my Buddha, my source of calmness," he said.
After being married for 16 years to Illusion Millan, Cesar found himself starting over when she left. Now he has found happiness with Jahira Dar and plans to propose soon.
He says he rebuilt his life with work and exercise and is back in a good place. His admissions are so stark that the executive vice president of the channel airing the documentary said: "It's rare when someone with his level of celebrity is willing to completely open up and share the struggle and hardship it took to find success and happiness.