Moms Gone Wild! Tori Spelling Got Drunk, Kissed A Girl And Puked At Friend's Wedding!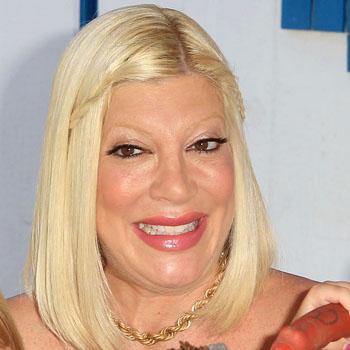 Tori Spelling got wasted, kissed a girl, broke stuff, and puked all over the place at a friend's wedding recently -- and she liked it!
The married mother-of-four, who has assumed a very domestic lifestyle since settling down with Dean McDermott, let loose at a friend's wedding in Santa Barbara, California, sharing the shocking specifics of the evening in a blog titled Moms Gone Wild, and RadarOnline.com has the details.
Article continues below advertisement
Admitting she was nervous about leaving the kids at home and spending a romantic weekend away with her husband, it didn't take long for the actress/reality star to get into the groove, telling a friend during post-ceremony drinks that "tonight is going to be epic."
Tori reveals that she continued to down glasses of red wine during dinner, and after checking in with the kids, decided to cut a rug.
"Not gonna lie, the rest of the night is a blur. Key points I remember...Bustling Jess's dress so she could dance gangnam style on the dance floor with me, gossiping in a corner with a bunch of gals using phrases like 'cray cray' and 'shut the hell up!', smashing a floral arrangement in the middle of the dance floor just for the hell of it, lip locking with a fellow mom who never gets out and screaming, 'Look! It's mom on mom action', and finally, leaving the wedding hanging on to Jess's mom while sobbing that I love her daughter sooooooooo much."
But there were definitely repercussions to her wild night.
"I puked. Not like politely kneeling and vomiting at the commode after feeling a tad queasy. I mean gut wrenching chunks everywhere."
However, despite the side effects, it was worth it.
"Poor Dean. He didn't get his romantic night, but damn I had fun!

 The next morning I felt absolutely horrible, and combing dried red wine colored puke from my hair in the shower was a low point. But, sitting in that shower I had a realization. Well two realizations. One, I would never drink that much again. And, two, that I was proud of myself for letting go and allowing myself one night of debauchery."