Teenage Boys Forced To Hold Hands For An Hour In Front Of Classmates As Punishment For Fighting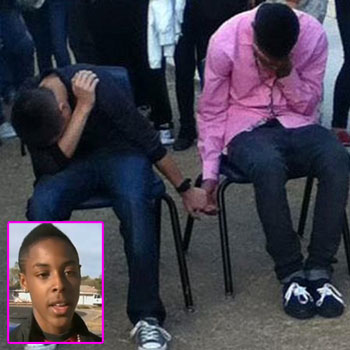 By Jon Boon - Radar Reporter
Who's a naughty boy then?
Two male students were forced to hold hands for an hour in front of their classmates at a high school in Arizona as punishment for fighting, RadarOnline.com reports.
Freshman Charles Crockett, 14, and a sophomore known only as Julio, got into an altercation during a P.E. class at Westwood High in Mesa on Wednesday.
The principal Tim Richards told the boys to either hold hands for an hour in the middle of the campus or be suspended.
Article continues below advertisement
They chose the former and now the principal's actions have come under fire.
One student who witnessed the incident told ABC News: "Kids were laughing at them and calling them names asking, 'Are you gay?'"
An image of the boys holding hands has already made its way around Facebook with users sharing the picture that shows the shamed boys covering their faces.
Crockett admitted he skipped school the next day because he was too ashamed to show his face. However, when he was asked if he learned a valuable lesson by CBS5, he replied: "Don't fight in school."
Since the photo was posted, several Facebook users have criticized the principal's method of disciplining the boys. One described it as "inappropriate," and another claimed it would encourage bullying.
Some even said that it sends a negative message to gay students because it suggests that boys holding hands is a shameful act.
Meanwhile, a Mesa Public School District representative released a statement condemning Principal Richards' actions: "The district does not condone the choice of in-school discipline given these students, regardless of their acceptance or willingness to participate. District leadership will address this matter with the school principal and review district protocol regarding student discipline with all administrators."