Spilling Secrets! The Biggest Spy Sex Scandals Of All Time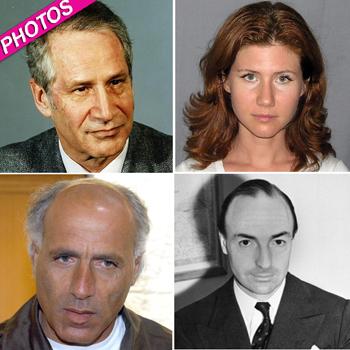 Article continues below advertisement
Petraeus, a former four-star Army general, was one of the most influential and respected military men of his time, and led the surge into Iraq under former President George Bush and led U.S. Troops into Afghanistan before becoming the director of the CIA.
As the rumor mill keeps raking up more illicit allegations against the married man – including raunchy e-mails about "sex under the desk" with former mistress Paula Broadwell, RadarOnline.com is taking a look back at the biggest spy scandals that have caused public outrage.
1. Margaretha Geertruida "Margreet" Zelle, commonly known by the stage name Mata Hari, was a Dutch exotic dancer who became an infamous double agent during World War I when she crossed over the borders of neutral Holland into warring European countries selling secrets. She was accused of working for both the French Intelligence and as a German spy under the code name H-21. She was arrested in February 1917 from her room at the Hotel Elysee Palace, and put on trial, accused of spying for Germany and consequently causing the deaths of at least 50,000 soldiers. Mata was found guilty and executed by firing squad on 15 October 1917, at the age of 41, but in the decades since there has been mounting speculation that the historical femme fatale was used as a scapegoat by the French military authority to make up for their own failures.
Article continues below advertisement
2. The East German head of the General Intelligence Administration, Markus Wolf wisely realized that it wasn't just women who could lure secrets out of unsuspecting victims. With a shortage of young German men after the loss of the Second World War, the elusive spymaster began sending dashing Romeos across the border into West Germany to seduce secretaries or business women with access to secrets.
3. In the swinging sixties, one story managed to shock even the most liberated generation and rock the British government to its core when it was revealed that John Profumo, Secretary Of State for War was having an affair with Catherine Keeler, the reputed mistress of an alleged Soviet spy. The pair met at a high profile social party and although the married politician claims he only dated the alleged call girl for a few weeks, her Communist connections at the height of the Cold War caused a political catastrophe, and Profumo was forced to resign from all Cabinet positions in 1963.
4. Once one of the supreme nuclear technicians in Israel, Mordechai Vanunu cited his moral opposition to weapons of mass destruction by selling details of his country's nuclear program to the British press in 1986. In order to catch the traitor, a Mossad agent named Cheryl Bentov masqueraded as a sexy American called "Cindy" and lured the scientist to Italy with promises of a romantic rendezvous. When in Rome, he was drugged and abducted by Israeli intelligence agents before being sent back to his homeland to stand trial behind close doors. Vanunu was held in prison for 18 years -- 11 of which were in solitary confinement -- before the nuclear whistle blower was finally released in 2004.
Article continues below advertisement
5. British Member of Parliament Mike Hancock was accused of several affairs, the most notorious of which was with suspected Russian spy Ekaterina Zatuliveter (also known as Katia), who was working as his parliamentary aide. The 25-year-old Russian was arrested in December 2010 on behalf of the British secret service MI5 under suspicion of espionage, and Hancock's name was catapulted into the headlines as part of what became a "vaudeville based on a threadbare spy plot," according to the Russian Foreign Ministry. Zatuliveter later admitted to having a four year affair with the married man, who was dubbed a "renowned womanizer."
6. With her wave of red hair, porcelain skin and sultry eyes, Russian spy Anna Chapman's story is ripped right out of the pages of a John LeCarre novel or James Bond movie. The Eastern Bloc beauty was arrested along with seven others in June 2010, on suspicion of working for the Illegals Program spy ring under the Russian Federation's external intelligence agency, the SVR. She was convicted on a charge of conspiracy to act as an agent of a foreign government and deported back to Russia the following month, but since her fall from espionage, Anna, 30, has found success on the catwalk as a model where she often mocks her arrest by posing with guns or fake secret service agents.