David Petraeus Scandal: Mystery Second Woman Received Threatening Emails From Paula Broadwell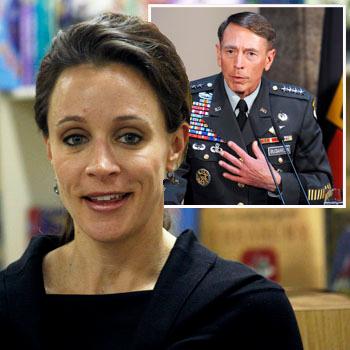 The stunning revelations about CIA Chief David Petraeus' extramarital affair came about because a woman close to him began receiving anonymous threatening emails so frightening she went to the FBI for help.
The investigating agents were in for a shock when they tracked the scary messages to Petraeus' own biographer, Paula Broadwell, The Washington Post is reporting.
Then combing through Broadwell's other email correspondences, the Feds unwittingly stumbled into Broadwell's affair with the retired four star general and a trail of explicit messages between the two of them, including ones about "sex under the desk."
Article continues below advertisement
The identity of the new "other woman" has not yet been revealed, but it was not Petraeus' wife Holly and was not anyone who worked for Petraeus at the CIA.
The Post's multiple sources would only say that Broadwell's messages indicated she felt the mystery woman was a threat to her own relationship with Petraeus.
As RadarOnline.com has been reporting, Petraeus announced on Friday that he had resigned as CIA and admitted to an extramarital affair.
"After being married for over 37 years, I showed extremely poor judgment by engaging in an extramarital affair," Petraeus said in his statement. "Such behavior is unacceptable, both as a husband and as the leader of an organization such as ours. This afternoon, the president graciously accepted my resignation."
His mistress, Paula Broadwell, is a married mother of two and a self-proclaimed "over-achiever" who graduated from West Point and spent twelve years in the U.S. Army retiring as a Major. She's working on her PhD and met Petraeus when she was a researcher at Harvard University and he came to speak there in 2006.
Article continues below advertisement
Her biography, All In: The Education of General David Petraeus, was published in February.
The the woman she's alleged to have threatened via email is possibly yet another Petraeus mistress.
The emails from Broadwell indicated that she thought the other woman was becoming involved with Petraeus, according to The Post. They were "threatening and harassing" but not specific enough to warrant criminal charges.
The FBI investigation discovered that the mystery woman even complained to Petraeus about the emails, and that was followed by emails between Petraeus and Broadwell in which they discussed the harassment.
Neither Broadwell or the apparently long-suffering Holly Petraeus have commented about the scandal.
RELATED STORIES:
Trouble In Paradise For Miley & Liam? Hemsworth Spotted Getting 'Very Cozy' With Mystery Blonde