Rare Look Inside The Life Of The Rock Dwelling Polygamist Family, One Man, Two Wives & 13 Kids!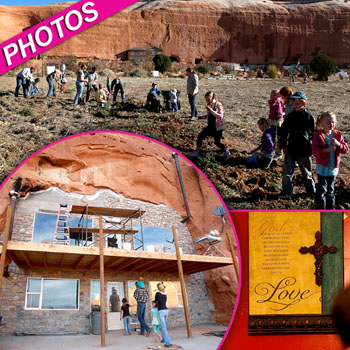 By Debbie Emery - Radar Reporter
One Polygamist family is literally stuck between a rock and a hard place, and couldn't be happier about it!
Enoch Foster, his two wives and 13 children live nestled in the side of a rock face in the Canyonlands National Park outside of Moab, Utah, and while their home offers spectacular views of the sweeping landscape, it was a challenge in architectural planning.
The Fosters are part of a small community of approximaltey 100 fundamentalist Mormons - including both polygamists and monogamists – that was founded 35 years ago on the south face of a sandstone rock that reaches up to 400 feet tall.
Article continues below advertisement
Rockland Ranch, nicknamed 'The Rock,' was founded 35 years ago by Robert Dean Foster, following his quest to find a safe and removed place to nurture the Christian community that embraces multiple marriages where they could worship the teachings of The Church of Jesus Christ of Latter-day Saints in peace, reported the Atlantic.
The unique housing community was created by blasting huge caves into the sandstone cliffs, and then building modern homes – complete with electricity, running water and Internet access – in the resulting caverns.