How Very Network! Disgruntled Anchors' Shocking On-Air Resignation In Middle Of Newscast!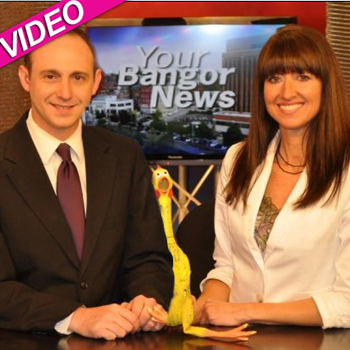 By Debbie Emery - RadarOnline.com Reporter
In what could be a scene straight out of the iconic 1976 movie, Network, two local news anchors at an ABC affiliate in Bangor, Maine, shocked viewers when they quit live on-air Tuesday in the middle of their newscast, and RadarOnline.com has the video.
WVII anchors Cindy Michaels, 46, and Tony Consiglio, 28, quit during their 6 p.m. newscast following an explosive fallout with the station's management and an ongoing feud over journalistic practices, reported the Bangor News.
Article continues below advertisement
News director Michaels, cited "constant disrespecting and belittling of staff" and editorial intervention by higher-ups. "It's a little complicated, but we were expected to do somewhat unbalanced news, politically, in general," she hinted.
"I just wanted to know that I was doing the best job I could and was being honest and ethical as a journalist, and I thought there were times when I wasn't able to do that," said Consiglio, who joined the station in 2006 as a sports reporter.
While many staff members were gobsmacked by the departure of the reporters, who have a combined 12 years of experience, WVII/WFVX vice president and general manager Mike Palmer described it as "unfortunate, but not unexpected," and claimed harshly that they would be easy to replace. "We'll hire experienced people to fill these positions sooner rather than later," he said.
Naturally, neither reporter made their intentions known before they made the bombshell announcements for the sake of their relationships with viewers.
Article continues below advertisement
"We figured if we had tendered our resignations off the air, we would not have been allowed to say goodbye to the community on the air and that was really important for us to do that," said Michaels, who claimed she had to endure a "a regular undoing of decisions."
"This is one of the toughest decisions I've ever made. This is my career and I love doing it," revealed Consiglio. "I'm looking at some options, but whether they're in this industry or not is something I'll find out."