X Factor Feud! Demi Lovato, Britney Spears & Khloe Kardashian At War, Claims Report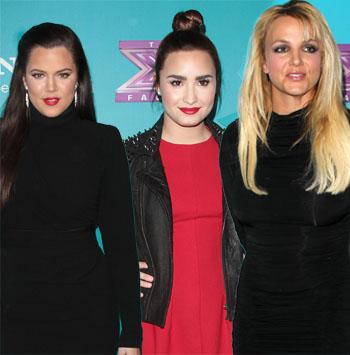 The X Factor's Demi Lovato, Britney Spears and Khloe Kardashian are embroiled in a bitter war with one another, according to a new report.
Spies who spotted the three leading ladies at an event to toast the 12 finalists at LA's SLS Hotel reportedly saw Britney, 30, Khloe, 28 and Demi, 20, completely snub each other -- Khloe "left after five minutes" while Britney "never interacted" with Demi, claims Life & Style.
Article continues below advertisement
And problems between the trio are only escalating, according to the report.
"Britney thinks she's a much bigger star than Khloe or Demi," an insider told the magazine. "She won't talk to either of them."
Britney is reportedly miffed that Khloe has stolen her thunder since arriving as host of The X Factor, and she's not afraid to show her displeasure whenever the she introduces the show.
"When Khloe is on camera, Britney seems totally annoyed," the insider revealed. "She rolls her eyes and looks at the audience, then at her nails, then at the floor."
Khloe's well aware of Britney's scornful looks, confirming to Life & Style that her relationship with the Criminal singer is purely professional.
"It's clearly business. I see her before and after the show," Khloe said.
Instead, Khloe has sided with Demi, who she feels she has much more in common with.
"Khloe and Demi are bonding." The insider divulged. "They are much more alike. Britney is on Planet Britney; Khloe and Demi are on Planet Earth."
Article continues below advertisement
Meanwhile, Britney, who has been described on-air as the "resident diva" and "the queen," told Life & Style that there's "a lot of competition going on" between the mentors.
And she doesn't help herself either: "She rolls up with the biggest entourage, and is totally oblivious to everyone around her," the insider told the magazine.
Despite the tension, Demi's doing her best to concentrate on the show. She's too "focused on her contestants" to worry about the bickering going on around her.