Exclusive
GMA's Josh Elliot 'Regularly Does The Walk Of Shame' From WABC-TV Anchor Liz Cho's Apartment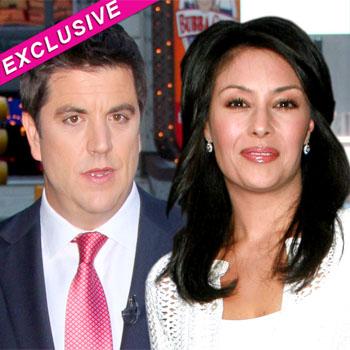 By Debbie Emery - RadarOnline.com Reporter
Good Morning America's Josh Elliot is making quite a name for himself as a daytime TV Casanova!
Along with juggling various women and garnering a reputation for being high maintenance off the air, RadarOnline.com can exclusively reveal that the former ESPN reporter has been having a secret fling with New York-based WABC-TV anchor Liz Cho.
"Josh has been seen sneaking out of Liz's apartment way early in the morning. He slithers out," a source exclusively tells RadarOnline.com. "It's been going on for at least three or four months, and she is in the middle of a really messy divorce."
Article continues below advertisement
Cho, a co-anchor at WABC-TV, split with her husband Evan Gottlieb and moved out of their Yonkers mansion over the summer. She is currently living on the Upper West side with her daughter, where she has her after-hours rendezvous with Elliot.
"But he is not committing to her," the source says. "She's told people that she hopes it goes somewhere but he is screwing her over too. It's been going on for at least three or four months."
Both 41, the TV hosts were spotted having dinner in Manhattan last September but they claimed it was purely platonic — however, the insider says that is just a rouse.
"They are trying to spin it that they are just friends and it is not going anywhere, but they are definitely sleeping together, and he spends nights there at her place and leaves in the morning.
"Liz really likes Josh and would love for it to go somewhere serious," the source reveals.
Article continues below advertisement
As RadarOnline.com exclusively revealed, Elliot has major trust issues with women stemming from his difficult childhood.
"Josh is extremely insecure and needs constant validation from everyone around him about how wonderful he is and what a great job he is doing. Josh doesn't get along with Lara Spencer at all, and the two have had multiple fights over trivial issues about how stories are covered," a GMA insider told RadarOnline.com.
"The only female Josh hasn't fought with is Robin Roberts, because he respects her for her previous work at ESPN.
"Josh does have a daughter from his former marriage to Priya Narang Elliot, and that relationship ended in divorce. He is high maintenance, and if viewers could see what he was like off the air, people would be truly shocked."
An ABC spokesperson told RadarOnline.com they don't comment on personal lives of the anchors.