Hilarious But Beyond Awkward! Reporter Mistakes Will.i.am For Wyclef Jean And THEN Wale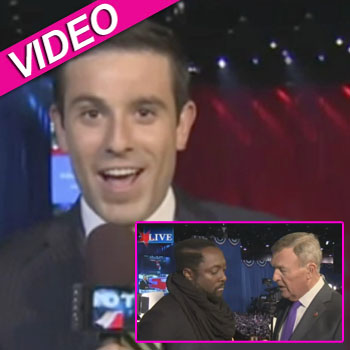 Mitt Romney probably wasn't the only one feeling a little embarrassed the morning after Election Day 2012!
During a live broadcast Tuesday night, Blake Burman, a reporter from Florida station 7 News, experienced a major embarrassment, misidentifying Black Eyed Peas rapper Will.i.am for not one, but two other hip-hop artists, and RadarOnline.com has the beyond awkward video of his blooper.
Article continues below advertisement
Burman was reporting from President Barack Obama's headquarters, where he was standing next to Will.i.am, in the middle of doing an interview with a UK station.
"That's Wyclef Jean, giving an interview. He is one of the surrogates…" he began, before getting interrupted by someone off camera, "correcting" him of his mistake.
"Wale, excuse me, got my artists mixed up," he backtracked, going on to mention other musicians supporting Obama, including Bruce Springsteen and Jay-Z.
Finally, corrected a third time, Burman gets it right.
"Will.i.am, good grief, man I'm tired," he said exasperatedly, finally getting it right. "It's Will.i.am. I'm sorry I'm mixing up my artists here. But either way, you kinda get the idea."
MORE ON:
Bruce Springsteen