Exclusive
Weekend TODAY's Jenna Wolfe Reprimanded About On-Air Behavior Towards Erica Hill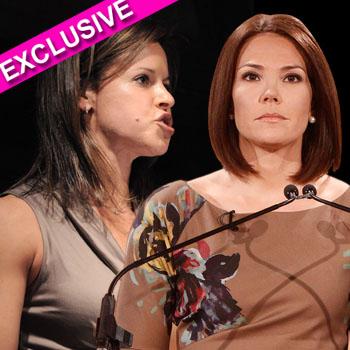 By Jen Heger - RadarOnline.com Assistant Managing Editor
Weekend TODAY's Jenna Wolfe was reprimanded by executives of the morning show because of her behavior towards new co-anchor, Erica Hill, RadarOnline.com is exclusively reporting.
"Jenna's on air antics on Saturday towards Erica Hill, who took her job, were extremely unprofessional. Jenna was obviously very upset that Erica replaced her as the co-anchor...Jenna had been the co-anchor on Sundays, and she has now been essentially demoted to just reading the news. On Erica's first day on the air last Saturday, Jenna didn't welcome her to the TODAY family, as everyone else had done," a source close to the situation tells us.
Article continues below advertisement
"When Jenna appeared on camera with Erica, she was crossing her arms and just looked genuinely angry, which is not what viewers tune in to see! Jenna was pulled aside after the show on Saturday and told to knock it off. Jenna didn't come across as hostile on Sunday, but things are still very tense with her towards the rest of the cast and crew of the show," the insider added.
As RadarOnline.com previously reported, as Hill made her debut as co-host beside Lester Holt on Weekend TODAY, Wolfe, who's now the show's news reader, is telling friends she's extremely upset about how she has been treated.
"After NBC confirmed last week that Erica had been hired as the new co-host, Jenna was told she was being moved to being the news anchor," a show insider previously told us.
"This is a huge step backwards for Jenna, and she is obviously extremely upset about it. Jenna doesn't understand why she was essentially kicked to the curb. Jenna doesn't harbor any bad feelings towards Erica, but she is upset with how the network has treated her," the source added.
Article continues below advertisement
Meanwhile, Hill "has gone out of her way to be nice to Jenna. Erica is a very warm and easygoing person, and Jenna is extremely competitive. Erica has been warmly received by everyone on the cast and crew. It's not surprising to anyone that Jenna is being so hostile towards Erica. Lester Holt is relieved that Erica is his new co-host because he felt that Jenna, who is a fitness buff, was constantly pushing to do on air exercise segments in which she essentially kicked his ass. There is just none of that with Erica; she is just down to earth, and she is a team player. Jenna would be wise to recognize her actions are only hurting her," the source says.