Plastic Fantastic Or Just Plain Creepy? New Craze Of Young Girls Turning Themselves Into Living Dolls & Human Barbies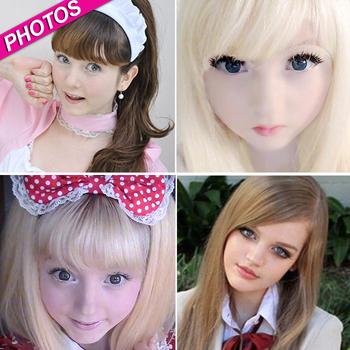 Article continues below advertisement
Described by one website as "Amanda Seyfried's alien doppelgänger," 19-year-old Rose flutters her huge cat-like eyes and girly pig-tails in front of the camera as she flirts with the affections of her adoring fans.
Her cosmetic advice to aspiring copy cats is, "circle lenses, water trick, nose trick, tinted moisturizer," to perfect the porcelain doll facade.
Possibly even more disturbing because of her young age, Venus Palermo, 15, has grown into her doll obsession rather than out of it.
The teen from Brixton in London, England, became inspired by Japanese anime after a trip to Tokyo, and now lives as a living doll every day with hits for her step-by-step videos totaling more than 30 million -- one video - How To Look Like A Doll - attracted almost 5 million viewers alone.
"I have many different friends, some that follow my style, but others that like hip hop and normal stuff," Venus revealed during an interview on Polish TV.
Article continues below advertisement
"And this is my real voice! Dolls don't talk so how would I know what a doll sounds like?" She asked in response to suggestions that she fakes her mannerisms.
"It makes me really happy that I am able to inspire so many people," she said about girls who mimic her geisha doll inspired look.
Will breathing manequins popping up online from Russia to China, and England to America, the strange habit of girls morphing into living dolls has spread all over the world.