Anything You Can Do! Lauren Scruggs Proves Horrific Accident Hasn't Altered Her Life, Shows Off Her Prosthetic Arm Abilities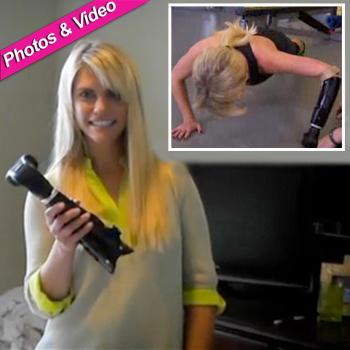 By Debbie Emery - Radar Reporter
Model and fashion blogger Lauren Scruggs isn't going to let her horrific propellor accident stop her from doing anything, even her kick-ass workouts!
"I think it is interesting how your body will conform to what the new normal is," explained the 24-year-old as she pulled her collection of sporty prosthetic arms from her gym bag for a video interview with People.com.
As RadarOnline previously reported, despite the extent of her injuries, Scruggs was lucky to be alive after walking into a plane propeller near Dallas, Texas, following a sight-seeing flight looking at Christmas lights.
Article continues below advertisement
The Lolo Mag editor went on to reveal the realistic-looking arm that she uses most often. "This is the most passive prosthetic and it is just supposed to look natural, it doesn't have any function, you can move the fingers back and forth.
"I've had to learn things like putting up my hair or even opening bottles. I learn new things everyday and new ways to do things," she explained, while demonstrating her one-handed skills.
Article continues below advertisement
"Emotionally it gets easier every day because time brings healing, but there are hard days for sure and I think there will be for the rest of my life.
"I think that just accepting what has happened has been a big thing in me being comfortable with all these things. At the beginning it wasn't as easy as it is now. Just being surrounded by a community that loves me and doesn't treat me differently has made me feel loved through it and made me more confident," said Scruggs.
On Friday morning, Lauren and her parents, Jeff and Cheryl Scruggs, appeared on TODAY, where they opened up even more about how they are recovering from the horrific night on December 5 that ripped their lives apart.
"I'm feeling really well and still doing rehab every day and they are actually really working me out hard. I love it! I'm off my pain medication," she told viewers.
Lauren went on to reveal how much of the accident is still a big blur for her, and she struggles to recall any details.
Article continues below advertisement
"I remember getting into the plane, I was kind of fearful but I didn't know why," she confessed. "I felt like something was going to happen, which was interesting because I thought we might crash, then I just remember my feet touching the ground, and that's all I remember."
Mom Cheryl fought back her tears as she explained the torture she went through in the wake of the the propellor collision. "She was out there laying on her stomach in a pool of blood. I wasn't sure if she was alive or dead at that moment."