Kristen Stewart's Stylist Admits That She Has To Beg Her To Wear Heels Instead Of Sneakers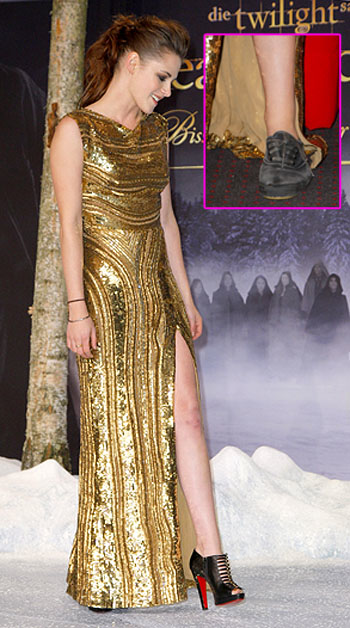 When your star client is a tomboy and insists on wearing Converse kicks instead of Christian Louboutins, it can be just a tad frustrating!
Tara Swennen, who has been dressing tomboy Kristen Stewart since 2007's Into the Wild premiere, opens up to New York Magazine's The Cut about the difficulties of styling the Twilight beauty, who prefers wearing jeans and t-shirts to the most glamorous designer gowns in the world, and RadarOnline.com has the details.
Article continues below advertisement
"She's a tomboy at heart (both of us are), but she understands that fashion is an arena, that she can be a chameleon and not dress the way she does every single day," Swennen admits.
"She'll always change into her Converses by halfway through a carpet, which is to be expected at this point, but she puts on the heels for me for the photos, God bless her. At the end of the day, I want my clients to be comfortable because I think it shows. She needs to put on her sneakers and that's all right with me."
However, Swennen, who also dresses Julie Bowen and Connie Britton, explains that Kristen's preference of wearing tennis shoes instead of heels, often results in begging and pleading.
"I clearly prefer a heel. I just think it photographs better. Regardless of it being any type of heel, I think it elongates the silhouette, which obviously you always wanna do, make them look taller and have that longer look. But it's part of her personality; I think it's fun when she does it," she says.
Article continues below advertisement