Kristen Stewart Arrives In Japan, While RPattz Down Under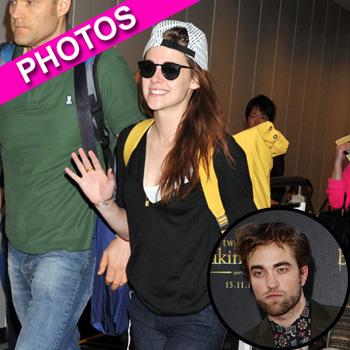 Kristen Stewart arrived to Tokyo, Japan's Narita International Airport early Monday, while her on-again love Robert Pattinson promotes their film, The Twilight Saga: Breaking Dawn - Part 2 in Australia.
In a likely sign everything's going good in her love life, The Runaways beauty was all smiles as she trudged through the travel hub clad in a white cap, black top and black Converse shoes. She's there to promote the film in Asia.
Article continues below advertisement
As we previously reported, the young lovers have reunited as a couple after a summer apart in the wake of Kristen's cheating scandal with director Rupert Sanders.
Sources told us the actress "is working hard to try and force the relationship into what it was before. But the truth is, she's going to have to take it slowly with Robert because he's still having trouble trusting her again. For him to carry on like nothing happened is very hard. Kristen is eternally sorry for cheating on him and he has forgiven her -- kind of.