Exclusive
Kristen Stewart 'Working Hard' To Get Robert Pattinson To Love Her Again, He's Taking It Slow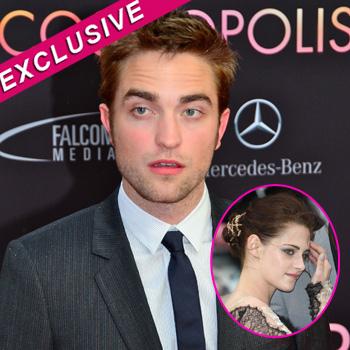 By Jon Boon - RadarOnline.com Reporter
Despite Kristen Stewart's best attempts to force Robert Pattinson to love her all over again, she's going to just have to bide her time, RadarOnline.com is exclusively reporting.
The two were pictured for the first time together last weekend and appeared close at L.A. hipster hangout Ye Rustic Inn in Los Feliz, California.
But Kristen, 22, is going too fast for Robert, 26, who has told her to slow down until he can fully trust her again.
Article continues below advertisement
"Kristen is working hard to try and force the relationship into what it was before," a source tells RadarOnline.com. "But the truth is, she's going to have to take it slowly with Robert because he's still having trouble trusting her again.
"For him to carry on like nothing happened is very hard. Kristen is eternally sorry for cheating on him and he has forgiven her -- kind of.
"The problem is he can't forget her infidelity. Kristen claims that she never actually slept with Rupert Sanders, but Robert still has that nagging feeling of doubt that she did.
"It's too early for him to fully accept that they're an item again, but Kristen is pushing for them to go back to how they were," the source reveals.
As RadarOnline.com previously reported, Kristen splashed out $2,195,000 on an L.A. abode just a mile and a half away from Robert's home.
The purchase was made in August – soon after reports of her affair with her married Snow White and the Huntsman director surfaced.
Article continues below advertisement
And, although all appears rosy between Kristen and Robert, they will have separate hotel rooms for their upcoming promotional tour for the final installment of the Twilight saga.
"Despite getting back together, Rob and Kristen will have separate hotel rooms booked for them on the upcoming promotional tour for Breaking Dawn-Part 2. Summit Entertainment isn't taking any chances that the couple will have problems again and be forced to scramble at the last minute to book one of them a posh hotel suite," an insider previously told RadarOnline.com.