Kristen Stewart Bares All In On The Road!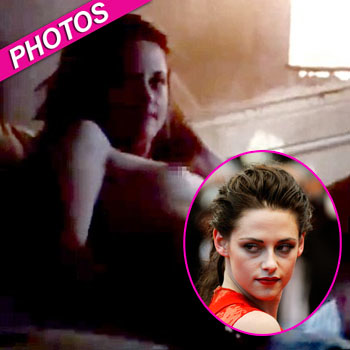 She may have shied away from public attention when her cheating scandal broke, but Kristen Stewart isn't concerned about nude scenes in her latest movie On The Road, and RadarOnline.com has the pictures.
The 22-year-old's skinny torso is on display in these racy stills in the film adaptation of the famous Jack Kerouac novel, which the Twilight star has called "no big deal."
In the risqué clips, Stewart is seen sitting completely naked on a bed, exposing her bare breasts and bottom with an inviting glint in her eye.
Article continues below advertisement
And if one nude glimpse isn't enough, Kristen's male fans will be delighted that the starlet whips out her boobs again in a separate scene alongside her co-stars Garrett Hedlund and Sam Riley.
In fact, the scene gets even steamier when Kristen simulates a sexual act with her hands in a car with the two men!
"It didn't bother me," Kristen told MTV News at last month's Toronto Film Festival.
"You can do no wrong with (director Walter Salles). He puts so much inside of you. In the four-week rehearsal process, it was okay to ask any question, to bring up any story, to really over-analyze everything and intellectualize everything.
"Once we got on set, it was so about just breathing and letting it happen. He put so much trust in us, so it was like, 'Okay, so I have to take my clothes off?' It's so not a big (deal)."
Kristen was originally offered the role of 16-year Marylou when she was 17-year-old, but because of delays in filming she had the opportunity to mature first.
"I should have definitely been older than 17 while playing this part, absolutely," she said.
Article continues below advertisement
"(My performance) would have been done very differently if I was younger. I wouldn't have played the part, obviously."
On The Road is based on the years Kerouac spent traveling around the United States in the 1940s with pal Neal Cassidy.
The movie, which features a stellar cast, including Amy Adams, Viggo Mortenson, Kirsten Dunst, Steve Buscemi, Terence Howard and Elisabeth Moss is set for release on December 22.