Kristen Stewart Tries To Bowl Over Robert Pattinson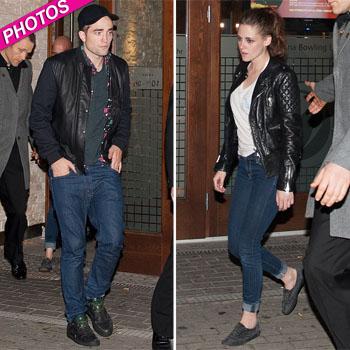 As they seem to be slowly rekindling their romance, Kristen Stewart went with a new tactic in Berlin -- she's literally tried to bowl over Robert Pattinson.
The pair, along with costar Taylor Latuner, followed up their The Twilight Saga: Breaking Dawn Part 2 premiere in the German capital with a trip to a local bowling alley.
It was 3 am Saturday morning before the trio left, with Rob and Kristen departing in the same car.
Article continues below advertisement
As RadarOnline.com has been reporting, Stewart has worn a series of scandalously sexy outfits to the U.S., UK, Spanish and German premieres of their final Twilight flick.
The globe trotting three stars got out of their fancy duds for their impromptu bowling party, though, with Stewart and Pattinson both spotted wearing jeans and black leather jackets.
It's back to L.A. for the twosome who are still trying to pick up the pieces of their romance, shattered last summer when Kristen was caught cheating with her married Snow White & The Huntsman director Rupert Sanders.