Kirstie Alley: Patrick Swayze Turned Down Sex From Me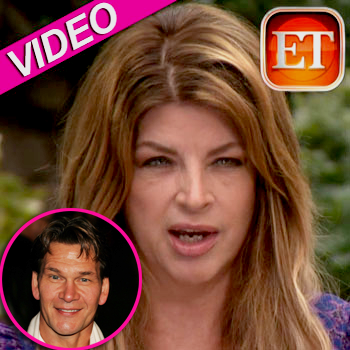 Kirstie Alley says the late Patrick Swayze resisted her sexual advances while working together in the mid-80s, and we've got all the details for you right here on RadarOnline.com.
Kirstie says in her new book, The Art of Men (I Prefer Mine al Dente) that she fell in love with the star; she said she propositioned the Dirty Dancing great while they filmed the 1985 miniseries North and South.
Article continues below advertisement
She told ET's Chris Jacobs that after a night of partying, she told the late actor, "I want to make love with you. I just don't care anymore, let's just do it," to which he responded, "No…come on, you're drunk…Kirstie, you don't really want to do it…you're not that kind of girl."
She said at the time she tried to throw herself at the Ghost star, "both of us were married.
"We did not have an affair. But again, I think what I did was worse. Because I think when you fall in love with someone when you're married, you jeopardize your own marriage and their marriage -- it's doubly bad."
Watch the video on RadarOnline.com
Kirstie, who spoke at the actor's funeral at the request of his longtime wife Lisa Niemi, said, "I have no idea if Lisa knows anything about Patrick and I.
"I was probably the least of Lisa's problems with Patrick," she said, adding the actor was drinking heavily at the time.
Kirstie returns to the dance floor when Dancing with the Stars: All Stars continues Monday on ABC at 8/7c.