Kim Zolciak Moves Out, Phaedra Parks Admits Awkward Butt Dial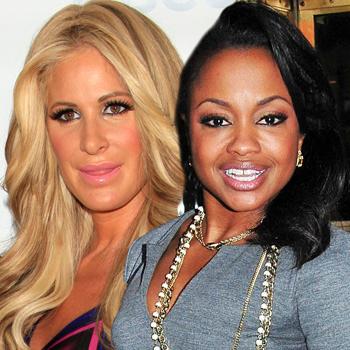 Article continues below advertisement
"Cynthia was like, 'I gotta go out of town.' But I really don't give a f*ck about her coming," Phaedra said about the message.
Cynthia is determined to confront Phaedra over the voicemail and approaches her at lunch saying saying, "As a matter of fact...somebody actually told me that you...really didn't give a – excuse my spelling – a f*ck, if I came to Ayden's party of not."
Not knowing that Cynthia's been left a voicemail by her, Phaedra reacts, "I don't think you've ever heard me drop the F-bomb, so whoever told you that is tripping. I did not say that and I think you know I don't talk like that."
"I heard it with my own ears," Cynthia confessed. "And I actually have it if you would like to hear it."
Meanwhile, after deciding it's not a good deal to buy the house they've been renting, Kim Zolciak and her hubby Kroy Biermann move out of their dream house and back into her townhouse because of an altercation with her interior designer and landlord.
The couple hired movers for $35-per-hour, but even at that rate, Kim gets upset and claims they're not working hard enough to move all of possessions.
Article continues below advertisement
"I could have f*cking done this myself and just said, 'Put it wherever the f*ck you want. I'll figure it out later. I just want to get out," Kim said.
"I wanted all my sh*t organized so that when I do get my stuff out of a warehouse and I move into a new home I know where the f*ck to find it."
Kim refused to settle down over how her movers were progressing and told her assistant, Sweetie Hughes, of the movers, "When I'm writing you a $10,000 check I say: 'F*ck you, motherf*cker'."